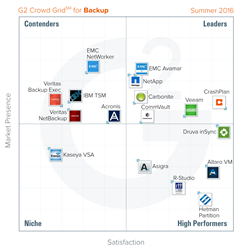 CHICAGO (PRWEB) July 18, 2016
G2 Crowd, the world's leading business software review platform, today released the Summer 2016 Backup Software Grid report to help businesses make the best backup technology decision. CrashPlan, Veeam, EMC Avamar, NetApp Backup and Recovery, Carbonite, and CommVault Simpana were named Leaders in the report, receiving strong customer satisfaction scores with a large market presence.
Druva inSync, Altaro VM Backup, Hetman Partition Recovery, R-Studio, and Asigra Cloud Backup were named High Performers in the report, earning strong customer satisfaction marks with smaller market presence scores. CrashPlan earned the highest overall satisfaction score, while EMC NetWorker earned the highest overall market presence score.
The Grid leverages customer satisfaction data reported by authenticated users along with vendor market presence determined from social and public data. Based on a combination of these scores, each software solution is categorized as a Leader, High Performer, Contender or Niche.
Key Findings:

Scalability is a necessity — As a company grows in size and attains more data, the need for backup software becomes more critical. Only 24 percent of reviewers came from small businesses (companies with fewer than 50 employees), emphasizing that employees of larger companies are more likely to be backup users.
Ease of administration — Users' satisfaction with a product weighed significantly on the ease of administration for backup products. Users felt that programs with below-average ratings for ease of admin were not headed in the right direction compared to those with above-average ease of admin ratings.
Performance is key — Users appreciated consistently powerful, high-performing backup solutions. If a backup software product goes down, it can lead to severe data loss, so products that maintain a high level of performance received favorable reviews.
About the Backup Software Grid report:
The report is based on more than 370 reviews written by business professionals.
Of the 167 products listed in G2 Crowd's Backup category, the ranked products each received ten or more reviews to qualify for inclusion on the Grid.
About G2 Crowd, Inc.
G2 Crowd, the world's leading business software review platform, leverages more than 90,000 user reviews to drive better purchasing decisions. Technology buyers, investors, and analysts use the site to compare and select the best software based on peer reviews and synthesized social data. Monthly more than a half-million people visit G2 Crowd's site. Co-founded by the founder and former executives from SaaS leader BigMachines and backed by roughly $12 million in capital, G2 Crowd aims to bring authenticity and transparency to business technology research. For more information, go to G2Crowd.com.