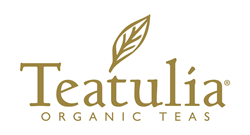 Denver, CO (PRWEB) July 19, 2016
Delicious Living named Teatulia Energy Black the finalist for Best Tea in the magazine's fourth annual Best Bite Awards. Designed to highlight the wealth of natural food and beverage products on grocery store shelves, Delicious Living's Best Bite Awards specifically recognize brands that excel in health, ingredient sustainability, social mission, and flavor.
"We're thrilled that one of our Teatulia Energy Teas has been recognized among the most delicious natural food and beverage products on the market," said Teatulia Organic Teas' Co-founder and CEO, Linda Appel Lipsius.
This year, readers, manufacturers, and industry experts nominated nearly 1,000 products for Best Bite Awards consideration. Only 33 of those nominated were selected as winners and finalists in a range of product categories, including Best Baking Mix, Best Paleo-Friendly Snack, and Best Vegan Ice Cream. Products were judged on taste, sustainability, ingredient cleanliness, nutrition profile, and brand mission. A complete list of the 2016 Best Bite Awards winners and finalists is available on Delicious Living website.
"These excellent winners and finalists exemplify the best foods and beverages stocked by natural retailers, and crafted by manufacturers who care about how their products are made," says Jenna Blumenfeld, Delicious Living's senior food editor.
Energy Black is one of three flavors in a new line of Energy Teas from Teatulia. The key energy-inducing ingredient is Eleuthero Root, a botanical also known as Siberian Ginsing. Used for thousands of years in traditional Chinese medicine, Eleuthero Root has been known to help the body adapt to stressful conditions, recover faster, and overall perform optimally.
"We set out to create a healthy energy beverage—one that's truly natural and free of sugar and artificial ingredients. It's rewarding to see the end result as an approachable and outrageously tasty tea that anyone with an active or ultra-busy lifestyle can enjoy," added Appel Lipsius.
Teatulia Energy Black is a smooth and refreshing black tea blend with notes of sweet citrus and spicy ginger. It contains no sugar, zero calories, and has no artificial ingredients. It is naturally caffeinated with black tea, green tea, yerba mate, and guayusa but still has 72 percent less caffeine than a cup of coffee. Other flavors in the Teatulia Energy line up include Energy Green, a naturally caffeinated green tea and matcha blend, and Energy Red, a caffeine-free herbal tea blend with hibiscus and rooibos.
Teatulia Energy Teas are sustainably packaged in innovative eco-canisters made from recyclable and compostable materials. The convenient round tea bags are free of excess packaging like strings, tags, and staples. All sales of Teatulia teas support Teatulia's farming cooperative in Bangladesh. The co-op has created revolutionary education, health, and cattle-lending programs for the people working in Teatulia's organic tea garden and surrounding areas, helping to better the lives of families in the community while rebuilding the local ecosystem.
This is the first award for the new line of Teatulia Energy Teas, but the Teatulia family of teas has been awarded more than a dozen industry honors to date, including several North American Tea Championship Awards, a sofiTM Award from the Specialty Food Association, and an iF International Forum Design award for packaging design. Teatulia was also named one of Forbes Magazine's 25 Most Innovative Consumer Brands for 2015.
About Teatulia Organic Teas
Teatulia sources its teas and herbs directly from its own USDA-certified organic garden in Northern Bangladesh and other like-minded gardens. The teas are cultivated using only natural farming methods, and garden-direct sourcing means the teas don't sit in long-term warehouse storage or wait around to be blended by a third party. This results in great-tasting teas that are better for the land, its people and the environment. Started in 2000 to give back to the local community, the Teatulia Gardens were established as an enterprise that would give the people a living wage while protecting and strengthening the environment. The Teatulia cooperative, or the KS Foundation, was launched to provide a bright future for the Bangladeshi community. The cooperative has created innovative education, health, and cattle-lending programs for the people working in the garden and surrounding areas. All sales of Teatulia Organic Teas contribute to the cooperative's mission, helping to better the lives of men, women and children in the community while rebuilding the local ecosystem. Teatulia is mindful of how its actions impact worldwide communities and actively supports ethical organizations like the Whole Planet Foundation, Rainforest Alliance, and B Corporation. Teatulia's commitment to sustainability extends to its packaging, using stringless, tagless tea bags and 100% compostable, recyclable materials. Teatulia's award-winning hot and iced teas can be found across the country at fine-dining and fast-casual restaurants, colleges and universities, hotels, and specialty food and grocery stores. For more information about Teatulia's foodservice offerings, visit http://www.teatulia.com or call 1.888.860.3233. Like Teatulia on Facebook and follow us on Google+.
About Delicious Living
Based in Boulder, CO, Delicious Living and its parent company New Hope Network are trusted voices in the natural living community, helping consumers connect with local natural products stores and the responsible companies that make healthy living achievable, sustainable, and fun. Delicious Living tests and publishes recipes, product reviews, and health and nutrition information for consumers interested in living a healthy lifestyle.
CONTACT
Molly Gard, Associate Marketing Manager, 303.433.2980 x 309, molly(at)teatulia(dot)com