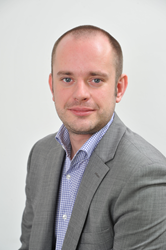 "Clarify and Chasm Group's joint proposition will help enterprises which are investing in new businesses to scale faster and with less risk, enabling them to future proof their business and their investment," said Lee Edney Director at Clarify
London, UK (PRWEB UK) 19 July 2016
Strategic Business Development specialist Clarify today announced a partnership with Chasm Group, the go-to-market consultancy and advisory firm founded by and based on the works of Geoffrey Moore, author of Crossing the Chasm.
By combining their individual specialties, the partnership will offer enterprise clients proven methodologies to increase revenue, accelerate growth and rapidly scale while reducing the risk of bringing new or disruptive initiatives to market.
"Executive teams know that to maintain growth and profitability, the effectiveness and speed at which they scale up new opportunities is now critical, especially in a climate where the speed of commoditisation means that profitability in core businesses is declining faster than ever," said Chasm Group Managing Director, Paul Wiefels.
"However, many organisations still maintain go-to-market models that are optimised for their core business. Chasm Group's research shows that often, such models do not adequately address the challenge of scaling break out initiatives," Wiefels concluded.
"Clarify and Chasm Group's joint proposition will help enterprises which are investing in new businesses to scale faster and with less risk, enabling them to future proof their business and their investment," said Lee Edney Director at Clarify.
"The service is a bespoke five stage programme based on a client's specific circumstances, whilst drawing upon our industry leading best practices detailed in many of Chasm Group founder, Geoffrey Moore's best-selling books. The strategies employed are proven to accelerate pathways to profitable growth," commented Chasm Group Principal Peter van der Fluit.
"Individually both organisations have a long term, proven track record in helping clients to become more competitive and create stronger go-to-market models for their break out initiatives. By combining Chasm Group's strategic consulting and Clarify's specialist business development execution capabilities, this partnership will offer European enterprise clients a proven ability to scale their innovations faster with less risk," commented Claire Edmunds, CEO of Clarify.
About Clarify
Clarify's mission is to change how companies value and use Business Development.
Clarify delivers high quality enterprise sales pipeline for complex deals at a scale that allows sales leaders to achieve their growth ambitions. In the past two years Clarify has built $1.2 billion in pipeline across 12 clients at an average order value of $700k.
Clarify has long term partnerships with its clients, providing dedicated teams that deliver predictability to the sales process and enables sales transformation.
Probably the best way to describe Clarify is to quote of one its clients "using Clarify is like having a set of my best salespeople 100 per cent dedicated to proactively building new pipeline."
Working specifically with B2B organisations engaged in high value complex deals (of $200k -$30m) Clarify's specialist office based Business Development teams enables its clients to create a more effective go-to-model market, address a number of their most important sales challenges and allows them to systematically create and sustain higher growth.
About Chasm Group
Chasm Group is a world-renowned go-to-market strategy consultancy founded by and based in part on the work of Geoffrey Moore, the author of Crossing the Chasm, Escape Velocity, and Zone to Win.
Chasm Group specialises in helping technology-based companies achieve market-leading positions in both emerging and established markets.
From its roots in the early '90s helping early stage companies "cross the chasm" from breakthrough idea to market leading reality, Chasm Group has continued to dedicate itself to creating business and market strategies that deliver results for technology-based companies of all sizes, across industries and across borders.
Comprised of senior executives with vast and diverse operational expertise, it collaborates with clients to devise accelerated pathways to profitable growth through market development strategies and plans that align offers with customers; products and companies with unique value promises; sales with performance and cross-functional organisational alignment.
Chasm Group's mission is to help its clients achieve their full potential faster; to help them generate higher revenue growth and increased company valuation.