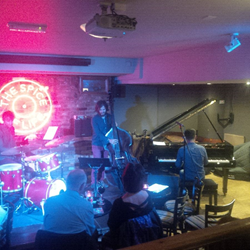 'Elchin has a really good sense of how to orchestrate for the trio setting.' – Brad Mehldau
London, UK (PRWEB UK) 18 July 2016
Internationally acclaimed Azerbaijani pianist Elchin Shirinov has brought his unique approach to ethno-jazz to two of London's leading jazz venues – The Spice of Life in Soho and The Vortex in Dalston, performing before an international audience of around 170 across both concerts. The European Azerbaijan Society (TEAS) supported his participation. Shirinov – who comes from the Azerbaijani folk tradition – belongs to the new generation of Azerbaijani jazz musicians who combine elements of post-bop jazz with the modes, melodies and microtones of Azerbaijani folk and classical music.
The concert at the Spice of Life on 13 July featured two musicians well-versed in Shirinov's music – Italian bassist Andrea Di Biase and British drummer Jon Scott, with whom he has regularly collaborated for over two years. Headlining after a set by the UK fusion band Alex Munk's Flying Machines, he performed before a rapt audience, his Azerbaijani heritage being evident from the start with his version of the Azerbaijani folk song Durna, which began at a furious drum-led pace and was replete with eastern harmonies, microtones and repeated figures, urging on Scott towards increasingly daring and complex drum passages. This, in turn, prompted a staccato response by Shirinov before his pianistic pyrotechnics upped the tempo even further, reaching a new degree of excitement. Throughout the concert, Di Biase demonstrated that the legacy of the great lyric bass player of postbop jazz – Scott LaFaro – remains firmly alive.
Shirinov's own Waiting, beginning as a languorous and delicate piece, again demonstrated the strong themes and eastern harmonies that are a hallmark of Shirinov's work, the symbiotic relationship with both western musicians emphasising the infinite understanding and respect that exists between all trio members. Throughout, Shirinov made space for both Scott and Di Biase to improvise as freely as possible, being perfectly content to recede into the background as an accompanist or come to the foreground with his own exciting improvisations whenever necessary, particularly after Scott upped the tempo. Similarly, his composition Muse was a thoughtful and delicate eastern-tinged dance-like melody that provided many opportunities for his own extemporisations to reach new heights of ingenuity, accompanied by Scott's hand-drumming.
Arguably the most famous Azerbaijani folk song – the enigmatic Sari Gelin – followed, beginning at a stately and reverential pace, laid down by Scott, its sad theme captivating all audience members. This led to an empathetically reflective bowed bass passage from Di Biase. The piece concluded with a richly ornamented variation of the main theme accompanied by a bowed bass in its upper register that stunned every member of the audience into silence.
Introducing each song in English, Elchin followed this with a newly self-penned composition – Chika Chika – a dynamic and staccato piece, full of repeated figures leading to freeform passages. This provided the groundwork for Scott to apply his full arsenal of percussion and percussive techniques, ranging from straightforward on-the-beat drumming through to a dizzying combination of cymbals, high-hats and bass drums that whipped the multinational audience into a frenzy.
Elchin remains as virtually the only jazz pianist to improvise on themes from the Azerbaijani classical repertoire, and he continued his concert by performing his own arrangement of one of the most famous pieces – the Waltz from The Seven Beauties ballet by Gara Garayev. Beginning quietly, the famous theme accompanied by Scott on brushes, Elchin rapidly found a joyous groove that gave space for Di Biase to demonstrate his cerebral approach to the bass, before giving way for Elchin's return, which was full of flourishes up and down the keyboard, buoyed by Scott's polyrhythmic drumming. Following its fitful conclusion, one enthused audience member declared the piece to be 'marvellous'.
He also approached a piece by the father of Azerbaijani classical music – an aria from the 1910 operetta O Olmasin Bu Olsun (If not this one, that one) by Uzeyir Hajibeyli, which he had reworked into non-standard metrical form. Maintaining the richly ornamented main theme, the piano then entered into interplay with drummer Scott, giving rise to increasingly more daring and successively faster improvisations, propelled by Scott's drumming, before reaching dizzying heights of complexity.
After a rapturous ovation from the jazz cognoscenti in the audience, Shirinov returned to the stage for a version of the folksong Gul Achdi, beginning with a single repeated note on the bass that was picked up on the piano, giving way to staccato variations on the main theme. The dancelike melody resulted in a trancelike state for all audience members, and prompted them to a standing ovation.
The concert two days later in the intimate surroundings of the Vortex jazz club gave Shirinov and Di Biase even more time to stretch out over two sets – this time collaborating with the drummer Dave Hamblett. Billed as 'London's Listening Jazz Club', the attentive audience remained transfixed throughout both sets. The extended performance time also gave Shirinov opportunity to approach one of his favourite standard songs – Michel Legrand's pensive You Must Believe In Spring, which began with delicate interplay between Shirinov and Di Biase on plucked bass. Shirinov went on to showcase his rhapsodic side, even as he improvised freely around the famous melody.
The response to both concerts by an international audience bore testament to American pianist Brad Mehldau's testimonial: "Elchin has a really good sense of how to orchestrate for the trio setting. In particular, he finds a distinct place for the piano and the bass in the music ¬– he doesn't play any extraneous stuff that the bass is already doing."
Go to http://www.elchinshirinov.com to experience the innovative work of Elchin Shirinov and to learn more about his forthcoming debut album.