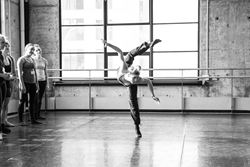 "The Barton sisters are building an atmosphere that feeds collaboration, inspiration and individuality." Sonya Tayeh
NEW YORK and LOS ANGELES (PRWEB) July 21, 2016
Cherice and Charissa Barton announced today the introduction of Axis Connect (http://www.theaxisconnect.com), a first of its kind platform for aspiring dancers. The internationally renowned Barton sisters and their faculty of celebrated artists have developed an innovative program to connect emerging talent to industry leaders from the world of dance. The inaugural year of Axis Connect's summer dance intensive will kick off in New York on July 24th and culminate with a final immersive performance in Los Angeles on August 6th, hosted by Alan Tudyk, co-star of Star Wars: Rogue One.
"This is the first program of its kind for aspiring young dancers in North America, and a completely new and innovative way to identify, support and create opportunities for the next generation of talent," said Cherice Barton, co-director of Axis Connect. "Dance in all of its forms has never been so popular as it is today, and we look forward to supporting emerging talent and attracting new interest from aspiring dancers."
Cherice and Charissa Barton share award-winning careers in dance having collaborated on numerous notable projects including the The Grammys, Lucasfilm, and American Ballet Theater, among others. Frequently asked to choreograph, lecture and conduct master classes for such institutions such as The Juilliard School, New York University Tisch School of the Arts, and UCSB, among others, the Barton sisters have worked to help aspiring dancers develop essential skills beyond dance such as networking, self-promotion, and personal branding.
The Barton sisters are joined by a celebrated faculty for Axis Connect featuring many of the industry's most recognized directors and choreographers, including:

Stephanie Klemons, global supervising choreographer of HAMILTON: AN AMERICAN MUSICAL
Vincent Paterson, director and choreographer for Cirque du Soleil, numerous Michael Jackson projects including Smooth Criminal, Madonna's Blonde Ambition tour, Dancer in the Dark, and Birdcage, among others
Aszure Barton, the third Barton sister and choreographer of Mikhail Baryshnikov, National Ballet of Canada, American Ballet Theater, and the English National Ballet
Sonya Tayeh, star choreographer of So You Think You Can Dance on Fox
Crystal Pite, award winning contemporary dance choreographer, and her company,"Kidd Pivot"
Lar Lubovitch, highly acclaimed director and choreographer, chosen by New York Times as "one of the ten best choreographers in the world."
Robert James Hoffman III, American Choreographer award winner for the film "You Got Served" and co-star of the film "Step Up 2: The Streets"
Sarah Elgart, director and choreographer, known for her work with JJ Abrams, David Lynch and many others
Alan Tudyk, co-star of upcoming Star Wars "Rogue One", co-star of new NBC sitcom, "Powerless" and creator of comedy series "Conman"
Alexandra Damiani, former Artistic Director of Cedar Lake Dance Company in NYC
Teddy Forance, Choreographer for Dancing With The Stars, Shaping Sound
Nathan Madden, lead role, "An American in Paris" on Broadway
Reed Luplau, "The Fiddler", Fiddler on the Roof on Broadway
Nick Alexander, Creative Director /Producer MTV (former), Getty Images, Put Together Media and others
"The Barton sisters are building an atmosphere that feeds collaboration, inspiration and individuality," said Sonya Tayeh, critically acclaimed choreographer of So You Think You Can Dance. "The range of artists coming in to explore with these exquisite dancers is a recipe for magic! I am so honored to be a part of this program that encompasses the one thing that keeps my blood pumping... dance!"
Axis Connect is a first of its kind platform for emerging professional dancers. Held at the prestigious Baryshnikov Arts Center, dancers are accepted into the program by audition only. Axis Connect goes beyond the traditional dance path and empowers dancers to become aware of the skills they've acquired through years of vigorous training, and use those skills to meet life's challenges and explore possibilities beyond those of being a dancer. Axis Connect also brings together the best emerging dance talent with relevant industry leaders from Broadway, Concert Dance, Commercial Dance, Television, and Film. Several agencies and management companies will participate and potentially recruit participants. The program culminates in a performance event in Los Angeles on August 6th, to be attended by influential producers, talent agents, talent managers, and others.
"We want to provide support to a generation of dancers who want to pursue dance as a professional career, but may be intimidated by the competitiveness of the field," said Charissa Barton, co-founder of Barton Movement. "There are more opportunities for dancers now than ever before, and we want to encourage them to explore everything that is available to them."
DETAILS: Runs July 24th-August 6th in New York City and Los Angeles. A final live performance will be held in Los Angeles on August 6th for an invited guests of industry leaders.
ABOUT AXIS CONNECT: Axis Connect is an educational and networking platform for emerging dance artists to advance their careers through creative process, life skill guidance, and exposure to industry leaders in Los Angeles and New York City. Axis Connect stands alone in its philosophy in educating young professionals to push the boundaries of their emerging careers. For more information, go to http://www.theaxisconnect.com