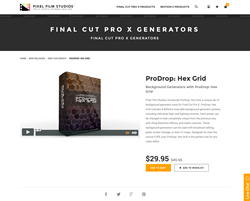 With a unique set of 8 different looping background generators ProDrop Hex Grid gives FCPX editors a plethora of stylistic choices that will be sure to enhance any video project
Aliso Viejo, California (PRWEB) July 19, 2016
"With a unique set of 8 different looping background generators ProDrop Hex Grid gives FCPX editors a plethora of stylistic choices that will be sure to enhance any video project," said Christina Austin - CEO of Pixel Film Studios.
ProDrop Hex grid is a background generator tool designed with creativity in mind. FCPX users can change multiple compositing levels, lighting scenarios, and layouts to give each background its own unique feel and mood. On-screen controls allow the user to adjust the rotation, scale, and more in real-time.
ProDrop Hex Grid allows FCPX editors to change the lighting of each individual generator with on-screen controls. Each generator comes with two different lights, allowing the users to change color, brightness, and position all with just a few slider controls and minor adjustments with the on-screen handles.
ProDrop Hex Grid comes with 8 different looped presets for the user to begin editing with. Each generator can be stretched to any duration. Theses generators can be used for broadcast, VJ loops and more. FCPX users can edit each generator by layer, adjust the shadows independently from the reflections, specular highlights, and lighting.
ProDrop Hex Grid is a generator tool designed specially for Final Cut Pro X. FCPX users have eight different background generator presets to select from, with different animations in each one. Lighting and compositing options are all included, giving users endless possibilities over how each background can look and feel. Designed for FCPX version 10.2.1 and newer.
Established in 2006, Aliso Viejo, California-based Pixel Film Studios is an innovative developer of visual effects tools for the post-production and broadcast community. Their products are integrated with popular non-linear editing and compositing products from Apple FCPX. Apple, the Apple logo, Mac OS X, and Macintosh are registered trademarks of Apple Inc. in the U.S. and/or other countries. All other trademarks and trade names are the property of their respective owners.