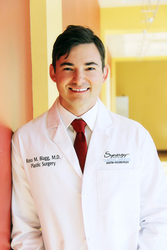 Austin, Texas (PRWEB) July 31, 2016
Synergy Plastic Surgery (http://www.synergyplasticsurgery.com) recently welcomed Dr. Ross Blagg, who brings his specialized plastic surgery and reconstructive surgery skills to the Austin, Texas practice, along with a passion for helping patients both here and abroad through humanitarian surgical missions.
"Having a surgeon with Dr. Blagg's talent and vision join our team is what Synergy is all about," says Dr. Mahlon Kerr, a board-certified plastic surgeon who established the Austin practice. "His diverse training and well-rounded surgical background reflect our mission of using advanced, proven techniques to get the best possible results for each patient."
After earning his medical degree and graduating with honors, Dr. Blagg completed his combined plastic and reconstructive surgery residency at the University of Utah. That led to fellowship training in pediatric plastic and craniofacial surgery while continuing his plastic surgery practice at the university's hospital. Additionally, Dr. Blagg's research has been published in a number of peer-reviewed publications.
"The breadth of Dr. Blagg's training and experience, his array of accomplishments, and his interest in performing body contouring surgery after massive weight loss makes him an ideal fit for our practice," says Dr. Kerr, who is recognized for his expertise in those types of procedures. Dr. Kerr also recently appeared on the TLC reality show, "Skin Tight.".
In addition to body contouring, the Austin plastic surgeons specialize in breast enhancement procedures and facial plastic surgery.
Dr. Blagg is active with humanitarian missions abroad. He traveled in 2012 to Haiti as the resident surgeon for an organization that provides a diverse collection of programs in the region, including schools, orphanages, medical clinics, a Bible college, and agricultural development efforts.
In 2014, Dr. Blagg teamed with other specialists to provide surgery for children with cleft lips, burns, or deformities in underprivileged areas of Guatemala. He also founded Humanitarian Plastic Surgery, an organization that works to coordinate reconstructive surgical procedures for patients in need where care is limited.
"I've been extremely fortunate to train with some exceptional surgeons who shared their passion and experience with me," Dr. Blagg says. "I feel that offering my skills through humanitarian missions is the best way I can give back and make positive changes in people's lives."
###
Dr. Mahlon Kerr and Dr. Ross Blagg (http://www.synergyplasticsurgery.com) are plastic surgeons in Austin, Texas, who offer numerous cosmetic and reconstructive procedures for the face, body, and breasts. After receiving his medical degree from Oregon Health & Science University in Portland, Oregon, Dr. Kerr went on to complete a general surgery internship at the University of Nevada Department of Surgery in Las Vegas and a 5-year combined plastic and reconstructive surgery residency at the University of Utah Division of Plastic Surgery. Dr. Kerr has given many national and international presentations on his research. He is an attending plastic surgeon at several Austin-area hospitals and a member of the Texas Medical Association. Dr. Blagg, who joined the practice in 2016, also completed a combined plastic and reconstructive surgery residency at the University of Utah after earning his medical degree from the University of Arkansas for Medical Sciences.