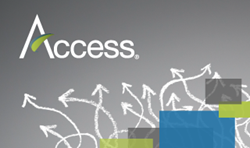 Our e-forms and e-signatures choice came down to who offered the best cost-benefit and who we had the best working relationship with. Access won hands down.
Sulphur Springs, Texas (PRWEB) July 19, 2016
Today Access announced that MEDITECH has implemented Access Passport, a web-based electronic forms and electronic signatures solution. MEDITECH is utilizing Access Passport for internal company use to support e-signature workflow. As a technology innovator, MEDITECH helps thousands of healthcare organizations worldwide improve patient care and service with cutting edge electronic health record (EHR) solutions. When MEDITECH determined it was time to improve the speed and efficiency of internal workflows, it was only natural that the organization chose to partner with Access.
"Our e-forms and e-signatures choice came down to who offered the best cost-benefit and who we had the best working relationship with," said Scott Radner, MEDITECH's Vice President of Advanced Technology. "Access won hands down."
With approximately 3,700 employees spread across 11 locations in three states, MEDITECH found that forms requiring multiple authorizations were a headache, and as Radner put it, "our biggest challenge with forms is geography." So MEDITECH prioritized its e-forms needs based on how many approvals each form required and how many stacks of paperwork they created on the COO's desk. They soon identified the Internal Transfer Proposal, a requirement for any staff member pursuing a new career opportunity within the company, as the top candidate for e-forms conversion.
Instead of processing forms using a paper process which took days, use of Access Passport creates an online request form which is routed automatically to the first reviewer electronically. Once they've reviewed it and applied a secure electronic signature, the form is sent to the next person in the workflow. Parallel routing can be used for simultaneous viewing and signing.
"With Access Passport, we've cut our turnaround time down from two weeks to two days," Radner said. "I live and die by email and so getting a notification each time there's a new form makes my job a lot easier than having stacks of paper forms on my desk. With Access Passport, I can review a form in seconds, sign it in my browser and move onto the next one. I couldn't ask for anything more as a user."
To ensure that implementation went smoothly, MEDITECH's team worked closely with Access product managers, implementation specialists and trainers. One of the keys was maintaining MEDITECH's corporate culture and enabling users to stick to their familiar workflows while empowering them to take advantage of new process efficiencies when appropriate.
"One of the things I like best about working with Access is that they never make us feel like we're doing anything wrong," Radner said. "Their products are flexible enough to let us continue doing some things the same way, but also help us work faster by improving others."
Before, during and after implementation, the Access team was available any time MEDITECH had questions about the new paperless processes or forms. This helped get users up and running quickly.
"When we contact Access, we get to talk to the same people who are familiar with us and what we're trying to achieve," Radner said. "The project planning, training and support have been great."
Since rolling out the Internal Transfer Proposal e-form, MEDITECH also has gone live with other high-volume forms that require authorization, including Promotion, Application for Educational Assistance, Telecommuting and Part-Time/Full-Time Requests, College Ambassador Program, and Parental Leave Start and Return. As the organization extends Access Passport to other forms, processes and departments, it will continue to save time and paper.
Another positive outcome of the project and deployment has been the growth of MEDITECH's relationship with Access.
"It has been a wonderful experience with a terrific company that has great products," Radner said. "Our relationship with Access and the usability of their solutions made it easy to transition from a paper world to an electronic one without upheaval. We look forward to helping the MEDITECH customer base make the same kind of transition."
About Access
For more than 15 years, Access has developed electronic forms management solutions that eliminate the unnecessary expense, risk and inefficiency of paper forms. Our 100 percent paperless technology enables organizations in any industry to capture, manage, sign and share forms data without printing or scanning. Learn more at http://www.accessefm.com and help Access's partner The Last Well bring clean water and the Gospel to Liberia at http://thelastwell.org
About MEDITECH
Today, more than 2,400 institutions worldwide use MEDITECH's clinically-integrated and interoperable EHR to provide healthcare to the communities they serve. Their robust, patient-centered technology spans the healthcare continuum, including unique functional capacity for ambulatory care, acute care, long-term care, rehabilitation services, behavioral health, and home care. For additional information, visit: https://ehr.meditech.com/