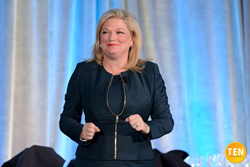 Atlanta, Georgia (PRWEB) July 20, 2016
Atlanta Girls' School (AGS) has announced that T.E.N. CEO and President and ISE® Talent's CEO and Chairman, Marci McCarthy, will join their Board of Trustees, effective July 1, 2016. For more than 20 years McCarthy has made great strides in the business, entrepreneurial, and technology realms, including founding T.E.N.'s flagship program, the Information Security Executive® of the Year (ISE®) Program Series and Awards.
"Board Chair Leslie Bryan and I are delighted that Marci has joined the AGS community as a new Trustee," stated AGS's Head of School Ayanna Hill-Gill. "Marci's many accomplishments in the field of information technology and as an entrepreneur are an invaluable asset to our Board, faculty, and students--most specifically as it relates to our strategic focus on ensuring key STEAM principles are fully integrated throughout our curriculum. Given Marci's persistent championing of women and girls in technology throughout her career, we are gaining a powerful role model for our girls and look forward to her involvement in our community."
Atlanta Girls' School's mission encourages students to expand their knowledge, find a sense of self, and craft the "voice" that will carry them confidently through an increasingly complex world. The school works through all areas—academic, social, and environmental—to teach girls they have the power and tools to influence change in the world and become capable, prominent leaders in any field. The AGS Board of Trustees is comprised of leaders across the Atlanta area who represent expertise within the business, philanthropic, legal, and education industries. They are committed to the mission and values of the Atlanta Girls' School in educating and building up young women before they enter the world.
On being chosen to be a part of the Board of Trustees, McCarthy said: "It's an honor to be elected as a member of the board. Atlanta Girls' School is a vital part of our community, encouraging girls to be educated, committed, and diligent in all their endeavors. The passion and dedication within the staff and students alike is inspiring, and the Board of Trustees ensures they do everything within their power to foster a community of growth and learning. I am excited to be a part of what AGS is doing for the young women in our Atlanta area, and I hope that my experiences as an entrepreneur and businesswoman can aid the Board of Trustees in their continuing endeavors to cultivate powerful, educated women."
McCarthy has dedicated much of her time to encouraging the furthered education of women and minorities, particularly in the STEM fields. In January of 2015, she joined the Strategic Advisory Board of the International Consortium of Minority Cybersecurity Professionals (ICMCP). As a member of their board, McCarthy diligently facilitates the career advancement of existing professionals through mentoring and promotes public awareness of cybersecurity and other opportunities for minorities in the profession. In March of 2016, McCarthy then announced that T.E.N. and ISE® Talent would be providing two undergraduate scholarships for the ICMCP: The Marci McCarthy Cybersecurity Certification Scholarship Program. This scholarship offers $5,000 over a two-year period to women and minorities so they may advance in cybersecurity studies and obtain professional certifications.
About T.E.N.
T.E.N., a national technology and security executive networking organization, facilitates peer-to-peer relationships between top executives, industry visionaries, and solutions providers. Nominated for numerous industry awards, T.E.N.'s executive leadership programs enable information exchange, collaboration, and decision-making. Its flagship program, the nationally-acclaimed Information Security Executive® (ISE®) of the Year Program Series and Awards, is North America's largest leadership recognition and networking program for security professionals. Other offerings include The ISE® Lions' Den and Jungle Lounge, T.E.N. Custom Programs, and the ISE® Industry Expert Advisory Services, empowering IT solutions providers to gain access to highly credentialed IT business veterans' expertise. For more information, visit http://www.ten-inc.com.
About ISE® Talent
ISE® Talent specializes in executive-level searches as well as high-demand industry skill-sets and specializations. ISE® Talent also puts an emphasis on emerging specializations, and critical security skill sets that translate across all industry verticals. More than just a search firm, ISE® Talent serves as a trusted partner in identifying, evaluating, recruiting, and presenting top level candidates that fit our clients' unique requirements. A 100% woman-owned business, ISE® Talent is a division of T.E.N., the leading national technology and security executive networking firm that facilitates peer-to-peer relationships between top executives, industry visionaries and solution providers. Learn more about ISE® Talent by visiting http://www.isetalent.com
About the Atlanta Girls' School:
Founded in 2000, Atlanta Girls' School is the only independent, nonsectarian, college-preparatory school for girls in grades 6 through 12. The curriculum and culture emerge from a distinct vision of what girls must learn individually and collectively to become thoughtful and capable leaders. We achieve this by using proven and emerging educational techniques tailored to how girls learn, integrating big-picture thinking, high expectations, and leading-edge technologies. AGS girls develop a deeper sense of self, confidence grounded in competence, and the understanding that they are able and impelled to influence change in the world. AGS students have unprecedented access to real-world experiences. All girls complete two customized internships with local, national, or international organizations. The internships, coupled with AGS's signature global travel and community service programs, fuel a robust opportunity of extracurricular learning that culminates with senior speeches to the entire school. For more information about AGS, please visit http://www.atlantagirlsschool.org