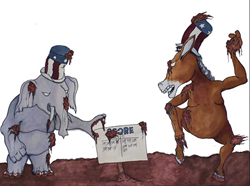 Sometimes when direct argument is ineffective, satire can find a way to break the spell of falsehood.
Denver, Colorado (PRWEB) July 19, 2016
Krista Kafer, a Denver Post columnist and radio talk show host on Kelley and Kafer 710 KNUS, announces a new conspiracy theory satire website that allows users to customize conspiracy theories regarding the upcoming Republican and Democratic conventions and the 2016 general election. Conspiracy theory satire website http://www.conspiracymadlibz.com launches on opening day of the GOP Convention. The format allows users to customize conspiracy theories regarding the convention and the election by choosing from a variety of collaborators, nefarious institutions, government agencies, seditious groups, and exotic locales.
According to Kafer, "Conspiracy theories regarding the party conventions and the election in general have gotten terribly bland. How often do we hear the same players mentioned – the Establishment, the Clinton Foundation, #NeverTrump, and the Koch Brothers? Yawn. A serious conspiracy theory should involve, at the very least, FEMA, the Council on Foreign Relations, Masons, the Pope, Monsanto, and individual collaborators more interesting than Mitch McConnell. And there should be lasers, offshore accounts, and secret codes. http://www.conspiracymadlibz.com enables theorists to create fresh, new conspiracy theories that are actually worth the tinfoil hat."
The free website features five conspiracy theory templates that users can customize with a generous list of conspirators, locales, and evil means and ends. The finished product can be posted on Facebook or printed.
Kafer adds, "Like all satire, the website has a deeper purpose. The problem with conspiracy theories on the right or left is that they distort public discourse and incite anger and suspicion. Sadly, they seem immune to facts and logic. Sometimes when direct argument is ineffective, satire can find a way to break the spell of falsehood. That's the purpose of http://www.conspiracymadlibz.com."
According to Dan Cassino, professor of political science at Fairleigh Dickinson University, "Conspiracy theories appeal to voters across the spectrum. The data shows that lots of people on both sides of the aisle are willing to believe a theory when it claims someone they dislike was up to something nefarious." The university's recent survey on conspiracy theories found Trump supporters are more likely to believe in such theories than other groups but no group is immune.
Krista Kafer is a Denver Post columnist and talk show host on Kelley and Kafer 710 KNUS Denver. For more information go to http://www.kristakafer.com or @kristakafer