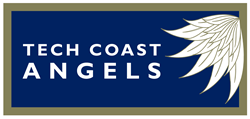 In honor of the 10th anniversary we've also doubled the prize money to $30,000.
San Diego, CA (PRWEB) July 20, 2016
Tech Coast Angels, one of the largest and most active angel investing organizations in the United States with more than 300 members in five regional networks, is seeking applications from technology startups for its 10th annual John G. Watson Quick Pitch event being held on October 6, 2016.
Following the receipt of applications, approximately 30 successful candidates will be put through a structured vetting and coaching process beginning in August, with the final 10 competing at the Quick Pitch event.
"At Tech Coast Angels our goal is to foster the entrepreneurial spirit and promote investment opportunities with significant commercial growth potential," said Sergio Gurrieri, President of the Tech Coast Angels, San Diego chapter. "Finalists will give a two-minute pitch in front of an all-star panel of judges and 500 attendees. New this year will be audience voting to determine the top three winners, all of whom will be awarded cash and business services as prizes. In honor of our 10th anniversary, we've also doubled the cash prize to $30,000."
The annual John G. Watson Quick Pitch competition is one of the most recognized angel investor events in the nation. It is ideal for entrepreneurs looking to jump-start their ventures and for investors seeking to learn about the latest innovations in Southern California. The event includes time for networking with Tech Coast Angels investors, venture capitalists and the entrepreneurial community. It is also open to all entrepreneurs and companies headquartered in Southern California. Ideal companies are early stage, fast-growing, and focused on developing and commercializing disruptive technologies regardless of their industry.
The event is named after and sponsored by the John G. Watson foundation. John was an active, gregarious and positive influence on local businesses and entrepreneurs through his work with Tech Coast Angels.
Quick Pitch will take place October 6, 2016 from 6:00 p.m. to 9:00 p.m. at the Irwin M. Jacobs Qualcomm Hall, 5775 Morehouse Drive, San Diego, CA 92121.
Please contact Ashok Kamal for information on how to apply, attend and/or sponsor the event at Ashok(at)techcoastangels(dot)com
ABOUT TECH COAST ANGELS:
Tech Coast Angels (TCA) is one of the largest angel investor networks in the nation, and a leading source of funding for seed-stage and early-stage companies across all industries in Southern California. TCA members are accredited investors who collectively invest in start-up companies in the range of $250k to $2M. The companies TCA invests in go through well-structured, transparent, and time efficient screening and due diligence. TCA members are themselves founders, and executive level business leaders who have extensive knowledge in the investment process and world-class business practices. Thus, TCA members provide companies with more than just capital; they also contribute counsel, mentoring and access to an extensive network of investors, customers, strategic partners and management. TCA is a catalyst in the growth of the Southern California entrepreneurial thriving ecosystem of innovation. We fund mostly emerging technology and life science companies. More information on investment with Tech Coast Angels can be found at: http://www.techcoastangels.com.
Contact: Amy Vavrunek
Tech Coast Angels – San Diego
619.920.9900
marketingSD(at)techcoastangels(dot)com