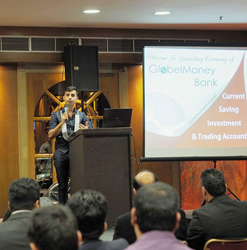 Founder & C.E.O GlobelMoney Mr. Waqas Ilyas says "The money transfer industry will finally start to feel the effects of the "internet revolution" and old models are changing extremely quickly.
Athens, Greece (PRWEB) July 20, 2016
Greece-based startup GlobelMoney has picked up more new sources. To compete against other big players in the world of financial Institutions — and tap a remittance market that the World Bank estimates will be worth $610 billion in 2016 — the company has added another service to its coffers.
In the last year, GlobelMoney has been working on licenses to add more sending regions to its network. It is now active in some 35 countries and will be adding more key markets soon.
Founder & C.E.O of GlobelMoney, Mr. Waqas Ilyas, says, "The money transfer industry will finally start to feel the effects of the 'internet revolution' and old models are changing extremely quickly."
On the receiving end, GlobelMoney is focusing on mobile money services: These are the agreements between carriers and mobile money operators that let residents in many developing countries use their mobile numbers (and mobile phones) effectively as proxy bank accounts.
This is a very fragmented area: There are now 25 mobile money services that work with GlobelMoney, including large companies like Mpesa and MTN, but Ilyas says that there still another 265 serving emerging markets.
GlobelMoney currently averages around 90,000 transfers each month, and it claims that its mobile money market share is the largest of any money transfer service today.
GlobelMoney also helps in increasing investments by utilizing digital currency to make an investment of your choice, may it be stock market or Forex trading. This is done through a trading technology used by experts to maximize on the market and utilize the best rate of foreign exchange. Another avenue to grow and save money is through GlobelMoney Bank, which also helps to invest in money generating projects.
Ilyas said: "I wanted to achieve two things: First of all, to offer a remittance service that wasn't slow and inconvenient to use and didn't require customers to go to a store and fill out forms. Secondly, I wanted to build a business that could efficiently comply with anti-money laundering regulations. GlobelMoney achieves both those aims."
GlobelMoney is also introducing the fourth generation of money transfer, which involves the transfer of money through the internet. This will do away with the slow traditional methods used to send money and making payments nationally and internationally will be as easy as sending a message through WhatsApp. This will not only help in speeding up the transfer but will also see the pricing and efficiency of the money transfer being achieved.
Ilyas says that part of what sets GlobelMoney apart from these others is less its size but the fact that for now its focused mainly on growing its business in Europe and specifically among a demographic that is often neglected by tech services: individuals who are often migrants who may earn less than the average income, and who regularly send a portion of that income far back home to family, with Africa, Latin America, Eastern Europe and parts of Asia "all popular corridors for us.