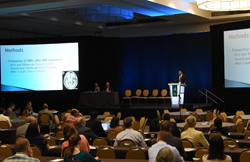 radiosurgery/SABR as natural partners for combination regimens with immunotherapy.
San Mateo, Calif. (PRWEB) July 26, 2016
The Radiosurgery Society (RSS), a non-profit medical society dedicated to advancing the science and clinical practice of radiosurgery, announced today highlights from its annual scientific meeting, "SRS/SBRT Scientific Meeting 2016 - Bridging the Gap: Advancing Research and Education", which was held June 16-18, 2016 at the Hilton Lake Buena Vista in Orlando, Fla.
This year's meeting was attended by more than 400 participants, including radiation oncologists, neurosurgeons, medical physicists, oncologists, nurses, dosimetrists and health industry leaders from around the world, and featured more than 100 presentations dedicated to stereotactic radiosurgery (SRS) and stereotactic body radiotherapy (SBRT). Abstracts of these presentations are now available online via the RSS Channel on the Cureus Medical Journal of Science: http://www.cureus.com/channels/therss.
Highlights of the presentations included "Bridging the Gap Between Immunotherapy & Hypo-Fractionated Radiation Therapy", with presenters from the National Institutes of Health (NCI/NIH), Society for Immunotherapy of Cancer (SITC), Radiation Research Society (RRS), and the Radiosurgery Society (the RSS) discussing the role of immunotherapy and radiation in the treatment of cancer. "Hypofractionated irradiation induces immunogenic cell death of tumor cells and upregulates antigen presentation and death receptors on the cell surface, thereby making cancer cells more susceptible to cytotoxic T cell attack," said Dr. Chandan Guha, M.D., Ph.D., Montefiore Medical Center, Albert Einstein College of Medicine, NY. "Although the dose, fractionation and the timing of radiation immunotherapy combination regimens are debatable, hypofractionated radiation converts irradiated tumors into in situ cancer vaccines, enabling radiosurgery and stereotactic ablative radiotherapy (SABR) as natural partners for combination regimens with immunotherapy."
There were several important physics presentations on normal tissue complication probability (NTCP) for SBRT, which were recently published in Seminars in Radiation Oncology: http://www.semradonc.com/issue/S1053-4296%2816%29X0002-1. "The NTCP for SBRT issue of Seminars is the best summary of current SBRT dose tolerance data that I have seen," said Bahman Emami, M.D., Loyola University Hospital, Ill. "Knowing that there are issues with the models, this is the best analysis currently possible from the available data, subject to the discretion and responsibility of clinicians when these results are used, as we continue to research improved models."
"A favorite component of this year's meeting was the Showdown Debates where experts debated provocative topics including SBRT for medically operable lung cancer and the development and rationale for the use of single fraction radiosurgery for the treatment of prostate cancer," said Joanne Davis, Ph.D., Executive Director of the Radiosurgery Society. "We look forward to delivering more engaging, informative and insightful content at our next Scientific Meeting in 2017."
The 2017 RSS Annual Scientific Meeting will be held November 2-4, 2017 at the Rio All-Suite Hotel in Las Vegas, Nev. Meeting details and registration information can be found at https://www.regonline.com/builder/site/Default.aspx?EventID=1851725.
About The Radiosurgery Society®
The Radiosurgery Society (RSS) – a non-profit, independent, multi-disciplinary organization of surgeons, radiation oncologists, physicists, and allied professionals, who are dedicated to advancing the science and clinical practice of radiosurgery. Originally formed in 2002 and becoming (501c6) in 2008, the Radiosurgery Society today (http://www.therss.org) represents over 600 members who perform stereotactic body radiotherapy and radiosurgery in hospitals and freestanding centers throughout the world.