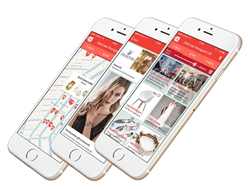 Dloky bridges the gap between physical and online Retail. Dloky offers all retailers the opportunity to promote on mobile phones of customers nearby as well as for consumers to find all the relevant promotions within walking distance.
Amsterdam (PRWEB) July 20, 2016
Dloky is a Social Media Network for Retail and Hospitality businesses worldwide based on GPS Proximity Marketing and Local Promotion. Dloky started in 2015 as mobile app for iOS and Android and recently the web platform was added.
Mobile Advertising
Users can customize their page by setting the search distance, selection of categories, businesses and saving promotions in favorites. Login is not required however possible to save settings over multiple devices and browsers.
Proximity Marketing
Dloky is a free and worldwide open platform for Retail Marketing. Businesses can simply sign up, add and manage all their locations/stores and promotions. Dloky will import large numbers of locations, at no costs (please contact us). Each store/location and promotion get a dedicated page and relevant URL. Promotions can be posted for all Retail locations combined or for a specific city or location. Accounts can be managed centrally or locally. Dloky is specifically tailored for complex Retail company structures. Many international locations, combinations of franchises, partly or fully owned stores, multiple Admins or multiple Retail Brands or Concepts etc. Apps and Website have the same structure and are linked through App indexing. Dloky plans to offer paid advertisements within relevant categories and locations on the longer term.
Increase Traffic to physical Stores
Goal of Dloky is to increase traffic to physical stores. Dloky started in the Netherlands in 2015 and more than 1000 Stores have signed-up such as Fashion; Azzurro, Oger, State of Art Cosmetics: Marie-Stella-Maris Book Stores; Boekenvoordeel Jewelry: Swarovski, BLGK Edelsmeden Galleries: Carré d'Artistes, GaleriesPR2 Shoes: vanHaren, Bristol Home: Friday Next, HAY Garden: Ranzijn, Sports, DIY, Beauty etc.
SEO
The web application is public and specifically designed for SEO. Each promotion gets an own relevant URL and link back to the Retailers website and web shop, creating relevant and effective backlinks. Retailers have full control on their local promotions. Dloky is currently widely used in the Netherlands by Retail as an alternative for unsolicited physical mail now that the Netherlands is starting to ban unsolicited mail because of environmental reasons.
Facebook-coupling
Also small retailers with a single store love Dloky. With the very efficient Facebook coupling, the Dloky is setup in seconds. The Dloky page can sync with the Facebook page and Facebook posts can be copied automatically in Dloky. Therefor Dloky is a very nice addition to a Local Business Facebook page, post for your followers in Facebook and automatically for potential customers nearby in Dloky.