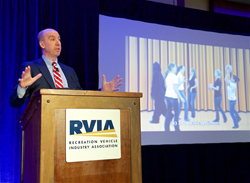 Nanoparticle-enhanced construction materials and 3D printing will be just a few of the game changers in world of Real Estate in the coming years.
Charlotte, NC (PRWEB) July 21, 2016
How will solar power, 3D printing, rope less elevators and shared-office startups affect the future of Real Estate and the Evaluation Industry?
Global futurist Jack Uldrich will be speaking on how these trends, along with several other technological game changers will change the industries at the Appraisal Institute's Annual Meeting in Charlotte, NC on July 25. He is slated to deliver the opening keynote, "The Big AHA: How to Future-Proof Your Business Against Tomorrow's Transformational Trends, Today."
According to Uldrich, nanoparticle-enhanced construction materials, Big Data, virtual shopping malls and structures connected to the Internet by thousands of sensors are just a few ways technology will change the commercial real estate industry in coming years.
"Now, more than ever," Uldrich says, "making the right connections is the key to competing effectively in the marketplace." In his thought provoking keynote, Uldrich will also share a series of actions AI members can take today to better prepare and capitalize on tomorrow.
A seasoned and sought after speaker. He has addressed hundreds of clients in a variety of industries throughout the world including (SOIR) Society of Industrial and Office Realtors, the Retail Leaders Industry Association (RILA), the Urban Land Institute, Blue Cross Blue Shield, The American Medical Association, the Million Dollar Round Table, Fiatech, Cisco, IBM, WiPro, PepsiCo, United Healthcare, Boston Scientific and General Electric, among others.
Parties interested in learning more about him, his books, his daily blog or his speaking availability and media wishing to know more about either the event or interviewing Jack as a futurist or trend expert are encouraged to visit his website.