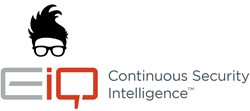 "Massachusetts Maritime Academy can rely on EiQ to support its cybersecurity policies and meet compliance mandates while protecting sensitive data from the escalating cyber threat landscape." said Dick Faulkner, VP of Worldwide Sales
Boston, Massachusetts (PRWEB) July 19, 2016
EiQ Networks, a pioneer in hybrid SaaS security and continuous security intelligence services, today announced that Massachusetts Maritime Academy (MMA) has selected its SOCVue® hybrid SaaS security services. Founded more than 125 years ago, Massachusetts Maritime Academy offers Bachelor and Master of Science degrees that are highly regarded in the worldwide maritime industry.
Massachusetts Maritime Academy will use EiQ's SOCVue Security Monitoring service to consolidate event logs from a variety of network devices and servers into a clear snapshot view of its current security posture, easily viewable in EiQ's SOCVue Portal. EiQ's SOCVue Security Monitoring will also help MMA meet compliance mandates set out by the SANS: CIS Critical Security Controls framework for information security defense.
EiQ's SOCVue Vulnerability Management service will provide MMA with the ability to scan internal and Internet-facing servers for potential threats and vulnerabilities. EiQ's sophisticated security analytics and reporting features will reveal where the most critical vulnerabilities reside, allowing MMA to quickly address and remediate issues.
"We're excited to welcome Massachusetts Maritime Academy as a new customer," said Dick Faulkner, Vice President of Worldwide Sales, EiQ Networks. "By partnering with EiQ, MMA can rely on us to support its cybersecurity policies and meet compliance mandates while protecting sensitive student and organizational data from the escalating cyber threat landscape."
About SOCVue, EiQ Networks' Hybrid SaaS Security Service
SOCVue is the only subscription SaaS service that combines people, process, and technology to deliver a cost-effective information security program, including:

Co-managed SIEM & Log Management
Continuous Vulnerability Management
24x7x365 Security Monitoring by Expertly Trained EiQ SOC Security Analysts
Proactive and Continuous Critical Security Controls Auditing
Incident Analysis, Notification, and Remediation Guidance
Compliance Reporting
More information on EiQ Networks' SOCVue pricing, starter packages, and features is available at: https://www.eiqnetworks.com/hybrid-saas/pricing.
About EiQ Networks
EiQ, a pioneer in hybrid SaaS security services, is transforming how mid-market organizations build enterprise-class security programs. Acting as an extension of our customers' IT teams, EiQ provides continuous security operations based on best-of-breed technology at a fraction of the cost of alternative solutions. EiQ is a trusted advisor to organizations that need to improve their IT security and compliance posture and protect against cyber threats and vulnerabilities. For more information, visit: https://www.eiqnetworks.com.