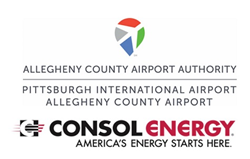 Innovative partnerships like this with a local, world-class company like CONSOL are key in helping attract air service. Christina Cassotis, CEO, Allegheny County Airport Authority
Pittsburgh, PA (PRWEB) July 19, 2016
Allegheny County Executive Rich Fitzgerald, Allegheny County Airport Authority CEO Christina Cassotis, and CONSOL Energy COO Tim Dugan, announced Monday the commencement of natural gas production at Pittsburgh International Airport.
The event marked a critical next phase of the sweeping natural gas exploration, development and production partnership expected to continue through 2018, and bring hundreds of millions of dollars in economic development activity to the region.
The Airport Authority received a $46 million up-front payment as part of the deal and will receive 18 percent royalties on the gas. The beginning of gas production is a significant event which will result in the first royalty payments from CONSOL to the Airport Authority, providing a critical non-aviation revenue stream to help further reduce fees to airlines.
"We were thrilled to have the opportunity to explore this public-private partnership two years ago following an extensive public process. Today, we are celebrating the benefits of it as we see our airport benefitting from reduced costs and increased service," Fitzgerald said. "Our region, as a whole, will continue to benefit with the start of production. With last month's announcement of the ethane cracker plant being built just a few miles away from here, we look forward to even more advancements and opportunities within the natural gas industry."
All six wells on Pad 2 have been turned in-line and are now flowing natural gas into the MarkWest midstream infrastructure system, which was constructed specifically for the project.
The Airport Authority will receive 18 percent in royalty payments from CONSOL based on the market rate of natural gas. Monthly production reports and payments to the Authority are expected to begin within months.
"Since the initial lease was signed and upfront payment received, we have reduced fees to airlines to their lowest rate in eight years," Cassotis said. "Innovative partnerships like this with a local, world-class company like CONSOL are key in helping attract air service."
Leaders congratulated CONSOL for being good and responsive neighbors throughout the initial phases of the project.
"As a company that has called this region home for 152 years, we are very proud to have been selected to develop this flagship project," Dugan said. "CONSOL takes our responsibility in terms of safety and protecting the environment very seriously. These are the core values that we live by each and every day, and these are the values which will continue to guide us as we move forward with this important project."
Partnership History

February 2013 - The Airport Authority leased approximately 9,200 acres at Pittsburgh International and Allegheny County Airport to CONSOL for oil and gas development. At PIT, 6 pads with up to 45 Marcellus wells are planned.
July 2013 - Following the initial lease payment of $46 million by CONSOL, the Airport Authority steadily lowered its cost per enplaned Passenger. The average cost per enplaned passenger was cut by 3.8 percent to $14.11.
October 2013 - The Airport Authority approved an additional decrease in the cost per enplaned passenger from $14.11 to $13.92.
August 2014 - Following a year of site preparations, public hearings and securing local, state and federal permits, CONSOL commenced drilling operations on Pads 1 and 2.
October 2014 - The Airport Authority approved another decrease in the cost per enplaned passenger from $13.92 to $12.90.
April 2015 - CONSOL commenced hydraulic fracturing/completions on Pad 2 delivering the industry's first complete fracturing spread powered by EPA Tier 4F emissions standard-compliant engines.
October 2015 – The Airport Authority reduced airline rates for the third straight year, lowering the cost per enplaned passenger to $12.88, the lowest since 2008.
July 2016 - All six wells on Pad 2 are flowing natural gas into the MarkWest midstream infrastructure system.
About CONSOL Energy Inc.:
CONSOL Energy Inc. (NYSE: CNX) is a Pittsburgh-based energy producer, and one of the largest independent natural gas exploration, development and production companies, with operations centered in the major shale formations of the Appalachian basin. The company deploys an organic growth strategy focused on developing its substantial resource base. As of December 31, 2015, CONSOL Energy had 5.6 trillion cubic feet equivalent of proved natural gas reserves. CONSOL Energy is a member of the Standard & Poor's Midcap 400 Index. Additional information may be found at http://www.consolenergy.com.
About Allegheny County Airport Authority:
Allegheny County Airport Authority, which manages Pittsburgh International Airport and Allegheny County Airport, is committed to increasing air service, improving customer service and inspiring growth in the Pittsburgh region.
Pittsburgh International Airport serves more than 8 million passengers annually on 13 airlines. During the past year and a half, the airport has increased its nonstop destinations to 56 markets, up 30 percent. J.D. Power ranked Pittsburgh International in its Top 10 medium-size airports in its 2015 North American Airport Satisfaction Study. Travel + Leisure also named Pittsburgh International a Top 10 Domestic Airport in 2016.