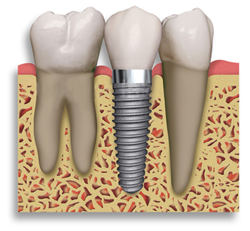 For the right candidates, oral implants are the best and closest thing we have to natural teeth. Implants help to prevent bone loss and allows for natural feedback upon chewing along the jaw.
Columbus, Ohio (PRWEB) July 18, 2016
Powell family dentist, Dr. Jerry Cheung, works with patients throughout the Columbus, Ohio area, on some of the more complicated cases dental cases. Dr. Cheung, an expert and advocate in dentistry, pediatric dentistry, oral medicine, and sedation, shares his knowledge and experience to help educate patients on dental options. In a recent PSA, the Powell Ohio emergency dentist addresses the benefits of implants versus other dental options.
Dr. Cheung writes, "For the right candidates, oral implants are the best and closest thing we have to natural teeth. Implants help to prevent bone loss and allows for natural feedback upon chewing along the jaw. Replacing missing teeth helps to prevent later issues that could impact systemic health, along with protecting the condition of your other teeth. Teeth that remain unreplaced can cause loss of other teeth, chipping or crowding in the mouth, creating even more issues."
In addition to this guidance, the Powell emergency dentist offers the following:

Dental implants are a long-term solution as opposed to traditional, tooth-supported dental bridges. Bridges truly only last five to seven years, possibly 10 years if cared for appropriately, but ultimately must be replaced. Dental implants sometime require periodic adjustments, but generally last a lifetime.
Dental implants help to retain the shape of your face. Missing teeth can cause the skin around the mouth and jaw to sag or appear sunken in. Dental help to sustain the natural shape of your face and smile.
Dental implants help to protect healthy bone and other teeth in the mouth. Unfortunately, empty spaces in the mouth can lead to future health issues, including gradual loss and deterioration of the jawbone. Dental implants are the sole dental restoration option available to preserve and stimulate the bone. Filling gaps also helps protect the bite and other teeth in the mouth.
Dental implants are often preferable to patients, when offered the option of dentures. Dentures can be lost, slip, and cause speaking issues, whereas dental implants are a permanent solution and can be treated and cared for as one would a natural tooth.
According the Dr. Cheung, "The up-front cost can be an issue for some patients, but long term serviceability of an implant is well worth the investment for future oral health. Most dentists will work with patients to finance this kind of dental work. Be sure to use your general dentist as you first stop for determining if implants are right for you. If you're looking for a dentist, seek out one with these credentials: periodontists, prosthodontists and oral surgeons who perform the surgical and/or restorative procedures."
The dentist adds, "We at Bright Smile have specialized training and treatment programs that address complex implant cases. Often, we refer our surgeries out to a skilled surgeon and then quarterback the placement to allow maximum aesthetic and functional result with a dental implant. We really can do beautiful things with today's implant process."
For more information on Bright Smile Dental or Powell Ohio dental implants, call 614-799-9140 or visit http://www.brightsmilepowell.com.
A comfort-focused practice, Bright Smile Dental, places emphasis on creating a positive experience for his patients through a state-of-the art facility, a warm, highly trained staff, and specialized instruments used to specifically treat children and patients with special needs. Bright Smile Dental serves all members of the family providing emergency dental services, cosmetic dentistry, sedation dentistry, and orthodontics.