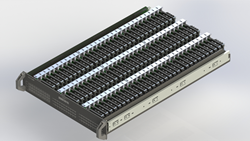 There's nothing else like this on the market today," said John Snider, CEO of DGS. "After years of development, innovation and refinement by ADDC and the BiodigitalPC® team, the data center of the future has arrived.
Chambersburg, PA (PRWEB) July 20, 2016
The patent-protected invention, dubbed "SR90," utilizes the world's first credit-card-sized computing platform called the BiodigitalPC®. The precursor to this pioneering advancement has been utilized with proven success in the military, allowing this next-generation solution to soon become available to commercial clients.
"SR90" is being unveiled in a major, two-staged rollout: first in Washington, D.C., to military and defense officials, and then at a major Commercial Data Center conference in Austin, Texas (http://nova-corp.com/dc-ac-2016).
"There's nothing else like this on the market today," said John Snider, CEO of DGS. "After years of development, innovation and refinement by ADDC and the BiodigitalPC® team, the data center of the future has arrived."
In the SR 90 2U box, servers once the size of the average bedroom are now condensed to the size of a credit card. SR90 has a remarkable 90 physical servers in a 2U platform requiring zero cooling, making it the world's most condensed and efficient miniaturized server platform.
This new-age design is ahead of its time, and the height of user-friendliness, negating the need for a separate server room to handle a remote office or business location.
In comparing SR90 to traditional single racks (52U), old-school products have 52 physical servers per rack, 832 max CPU cores, and 6,656GB max Ram. In an exponential leap forward, SR90 can pack 2,340 physical servers, 9,360 CPU cores, 18,720GB (soon to be 37,400GB) of RAM and 299,520GB (soon to be 599,040GB) of storage per rack drawing less than 1.5kw per SR90.
"SR90 is smaller, smarter, and more efficient," said Snider, a military veteran who has been featured in CIO Review Magazine for his industry knowledge and tech savvy. SR90 has a 90 percent reduced power draw and an 80 percent reduced footprint, saving energy and the environment."
"We are living in a new digital era that requires expansion of compute services which outstrip the capacity many data and power infrastructures," said Michael Arnouse, CEO of ADDC, explained of his company's trek to the future. "We knew this problem required an answer and we have created this exciting solution. The SR90- 2U has a remarkable 90 physical servers packed into a 2U space, the densest server configuration ever created."
"It's simple to use and each server weighs just 2 ounces. The versatility that will now be realized, combined with the compute power available in a 2U space while reducing energy consumption is the future," Snider said.
The DGS team has 80 years of experience in executive-level posts, leading start-ups through all phases of growth. Snider rose through the ranks as a former network engineer, software developer, and program manager to leading his last organization to a $100 million tech powerhouse.
"The server of the future is green, secure, reliable, fault-tolerant, and light-years ahead of our competitors –and it is here now," he added. "It is cost-effective, dynamic, grows with you, and is small enough to fit into your pocket –and it's made in the U.S."
DGS is the exclusive distributor of the SR90 product and all future Rack Mountable BiodigitalPC® products. For more information, visit the DGS website at http://www.TeamDGS.com/SR90_addc.html
About Us: DGS is a cutting-edge IT and telecommunications dynamo focused on government and military solutions and now branching out into commercial markets. Founded in 2006, and revitalized with a deep, diverse new management team in 2016, DGS has excelled at providing high-tech services and telecommunications to the federal government, the U.S military and other public sector clients. CEO John Snider has transformed the strategic direction of the company, engineering a remarkable growth trajectory for his team of the best and brightest IT intellects, and harnessing relationships built on word-of-mouth and their stellar past performance. DGS is poised for the future and destined to continually defy the limits of the status quo, like the futuristic SR90 server solution.
About ADDC: Arnouse Digital Devices Corporation (ADDC) was founded in 2002 by Michael Arnouse to create a new, revolutionary, interchangeable compute platform which gives users an unprecedented level of flexibility, compute power, small size, low power use and ultra-high security. ADDC invented a credit card sized pluggable computing card, called BioDigitalPC®, named for its rugged eco-friendliness. While inventing the BioDigitalPC®, ADDC realized this form factor could revolution the size requirements for just about any environment requiring x86 computing. Currently, ADDC includes four locations throughout the east and west coasts, as well as representation in over 57 countries. ADDC has been granted seventeen utility patents, with 3 pending in the areas of pluggable computing and the surrounding ecosystem. ADDC is fully committed to provide the world's best computing solutions for traditional and harsh environments that enable people, government and businesses to excel in productivity and abilities. The BioDigital platform represents the highest attainable level of environmental consciousness and responsibility while maintaining cutting edge capabilities and extraordinary return on investment for all users. ADDC products are proudly Made in the USA.
BioDigitalPC® is a registered trademark of ADDC