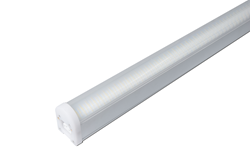 San Francisco, CA (PRWEB) July 21, 2016
Transcend Lighting, Inc., leader in LED horticulture lighting, announced today the release of the Infinity Linear LED light. The 4-foot long LED grow light is ideal for new installations where fluorescent or metal halide lights were formerly used. It incorporates Transcend's patent-pending phosphor technology that provides customers with energy efficiency and an emission spectra optimized for plant growth and production yield.
But according to Transcend Lighting CEO, Brian Bennett, the Infinity Linear LED light provides customers other significant benefits. "We are bringing this product to market in response to customer frustration with installation complexity of existing LED products. The Infinity Linear LED light has been designed to ensure quick and easy installation – from the simple plug type wiring, to the gapless snap together daisy-chaining system. Feedback from our customer base has been overwhelmingly positive."
The product is IP66 rated, works from 110V-277V, has a lifetime exceeding 65,000 hours and comes with a 5-year warranty. Transcend Lighting will be exhibiting the Infinity Linear LED light in booth #430 at Pier 48 in San Francisco from July 23-24 during the Maximum Yield Indoor Gardening Expo.
About Transcend Lighting
Transcend Lighting is a leading developer and U.S. manufacturer of LED lighting technologies. In 2015, the company emerged from the world-renown Silicon Valley incubator, Y Combinator, and is poised to transform the multi-billion dollar global horticulture lighting market. Transcend Lighting's patented and proprietary technologies enable unique advantages for horticultural solid-state lighting. Corporate headquarters is located in New York City, U.S.A. For more information, visit http://www.transcendlighting.com
Transcend Lighting Media Contact
Chuck DeMilo, VP, Marketing
800-205-7216
chuck(at)transcendlighting(dot)com