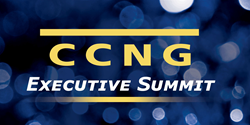 The CCNG Executive Summit definitely exceeded my expectations with relevant and timely content...
Fort Worth, Texas (PRWEB) July 18, 2016
By invitation only, the annual CCNG Executive Summit brings together a collection of senior level experienced business leaders from across the industry to meet and learn from each other. The invitees all share a high level of strategic knowledge and perspective associated with the challenges of customer support operations, customer experience management and customer engagement.
"The CCNG Executive Summit was a great networking opportunity. I found the information shared very valuable and overall, time well spent. I'm looking forward to future events, and have already connected with some new connections." - Yvonne Miller, Director, Customer Care, VSP Vision Care
A variety of senior level insights and perspectives in operations management, consultant expertise and industry provide unique content and idea sharing over the two-day format. Some of the featured discussion leaders include:

Charles Henries, Director, Operations & Member Experience, TMG Health
Ryan Bradley, Director, Center of Excellence , Erie Insurance Group
Chris Bauserman, VP Product and Segment Marketing, inContact
Julie Weingardt, SVP Operations, Startek
"The CCNG Executive Summit definitely exceeded my expectations with relevant and timely content. Conversation with peers and industry leaders was truly engaging, well worth the investment. I recommend this unique event to any executive who wants to recharge their batteries and share ideas with some of the smartest people in the industry." - Jennifer Richard, Director of Contact Center Operations, McKesson
Each day delivers cross-industry collaboration and dynamic problem solving with top pros and industry thought leaders. "It is really all about providing an environment for knowledge exchange, sharing of ideas and building personal senior level contacts and networks," says David Hadobas, President and CEO of CCNG. "The experience and expertise with our group of leaders creates a very unique program each year and we are very excited with the upcoming 2016 event!"
"I thoroughly enjoyed the CCNG Executive Summit! It was great to network with other senior leaders and share best practices. I've made some great contacts and plan to keep in my network." - Linda Alexander, Senior Director, Hilton Worldwide
In addition to their annual Executive Summit, going back to the mid 1990's each year CCNG works with its members to plan and host over 20 regional events throughout the United States designed for mid- level management responsible for operations in customer service, contact center and customer experience management.
For details on how to attend all CCNG regional and partner events, please contact Ginger Graber, events(at)CCNG(dot)com. Visit all event program details at http://www.CCNG.com.
CCNG International Inc.
Founded in 1992, CCNG International Inc., CCNG is a member Professional Peer Network (PPN) for Contact Center, Customer Experience and Customer Service Executives, Managers, and Leaders.
By joining the CCNG Member Network, experienced industry professionals:
Connect – interact and engage with your peers,
Collaborate – discuss best practices and problem solve,
Contribute – share your own experiences and expertise.
All Call Center, Contact Center, Customer Care, Customer Service, and Customer Experience Professionals are invited to participate in the CCNG Member Network. For more information about the CCNG Member Network, please visit CCNG.com, "Like" us on Facebook, and follow us on Twitter - @CCNGNetwork.
# # #