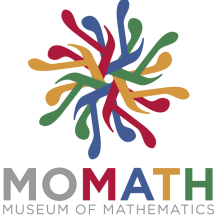 New York, NY (PRWEB) July 19, 2016
The National Museum of Mathematics (MoMath) will present its first Math Metropolis, a hands-on interactive public exhibit on Tuesday, July 26 from 11 am – 3 pm at 28 Liberty Street in Manhattan. Math Metropolis -- a compact version of MoMath's popular hands-on traveling exhibit, Math Midway, which has been seen by over 500,000 people in New York City and across the nation -- is a free educational public celebration of math open to the public.
At Math Metropolis, visitors will have the opportunity to slice shapes with lasers and discover its surprising cross sections at the Ring of Fire, challenge friends to find the fastest curve on the Roller Graphicoaster, and crank up math tunes using the Organ Function Grinder.
"With the Math Metropolis, our goal is to create a free public festival where people of all ages can discover the fun and power of math," said Cindy Lawrence, Executive Director of MoMath. "Teachers are encouraged to attend Math Metropolis on July 26th, and put their names on a list for consideration to win a a visit by the Math Metropolis to their school."
For more information about Math Midway, please visit http://mathmidway.org/mm2go/index.php
For more information on Math Metropolis, visit http://momath.org/about/upcoming-events/
MoMath is located at 11 East 26th Street on the north side Madison Square Park in Manhattan. The Museum is open seven days a week from 10 a.m. – 5 p.m. For more information, visit momath.org.
About the National Museum of Mathematics
The National Museum of Mathematics (MoMath) strives to enhance public understanding and perception of mathematics in daily life. The only math museum in North America, MoMath fulfills an incredible demand for hands-on math programming, creating a space where those who are math-challenged – as well as math enthusiasts of all backgrounds and levels of understanding – can revel in the infinite world of mathematics through more than 30 state-of-the-art interactive exhibits. MoMath was awarded the bronze 2013 MUSE Award for Education and Outreach by the American Alliance of Museums.
Media Contacts:
Lisa Sherman-Cohen, lisa(at)gzandassociates(dot)com 646-603-6869
Beatrix Maes, beatrix(at)gzandassociates(dot)com 646-603-6869