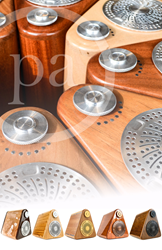 Princeton Audio's Site:1 speakers prove that a speaker can be a sculptural addition to a room, just as I consider a faucet to be. These speakers deserve to be seen as well as heard. I can't wait to show them to my clients
Princeton, Wisconsin (PRWEB) July 19, 2016
Graff, a premier design and precision-engineered manufacturer, today announced that the grand opening of their new North American showroom at Chicago's world-renowned Merchandise Mart will take place in late August of this year. Offering luxury bath and kitchen faucets with new releases of bath furniture, Graff enjoys an international reputation for exquisite design, and their new showroom further cements that status. In a rare move for a design company of Graff's stature, the aural environment in Graff's elegantly appointed showroom is provided courtesy of Princeton Audio, a new Wisconsin company that is beginning to make its own mark in the world of international design.
Graff North America's Marketing Brand Manager, Christopher Bishop, chose Princeton Audio's Site:1 speaker not only for its full, rich sound, but also because of its stunning design and creative, customizable styling.
"Our showroom is more than placing product on display; it's an experience, an opportunity for our clients to feel and understand the Graff brand. With the addition of the customized Princeton speakers, we added another level to that experience to work in harmony with our approach to create an experiential moment in time.
"Princeton Audio handcrafted a matched set of portable wireless speakers in a lovely gloss white with white metal hardware accents that perfectly melded with the new design of the showroom. Visually and mechanically, the Site:1 speakers function as another premier object of desire within the Graff showroom's design. They're gorgeous but — and this was important — they don't pull focus away from the Graff fixtures; they complement them. And they sound sublime."
Interior designer and principal of Milwaukee's Blue Hot Design Marianne Kohlmann visited the Graff showroom for the soft opening and was enthusiastic about the possibilities of offering Princeton's Site:1 speaker to her clients.
"Audio speakers tend to be a bit of a sore point," noted interior designer Kohlmann. "Interior designers think holistically. Every element of a given space is carefully considered to ensure that it contributes to the totality of the design. It can be frustrating to create a harmonious space only to have some anonymous black plastic speaker boxes imposed on it that create dissonance and mar the overall effect. Installing in-wall speakers is one solution, but they're difficult to upgrade, reposition, or relocate without professionally excavating the wall. To be able to extend the artistic design of a room to include the audio speakers, rather than have to try to hide them, is wonderful," said Kohlmann. "I love that the user can effortlessly move the speakers with them to different areas within the space without compromising their experience of the sound. And they're simply lovely. Princeton Audio's Site:1 speakers prove that a speaker can be a sculptural addition to a room, just as I consider a faucet to be. These speakers deserve to be seen as well as heard. I can't wait to show them to my clients," said Kohlmann
Princeton Audio Founder and CEO Michael Pelland isn't the least surprised that the design community would embrace his company's Site:1 speaker.
"Most mass manufacturers sell their speakers the same way Henry Ford sold the Model T; 'You can have it in any color so long as it's black,'" laughed Princeton Audio Founder and CEO Michael Pelland. "Princeton Audio's Site:1 speakers are different. We handcraft each and every one out of a variety of carefully selected instrument-quality tonewoods, like mahogany, black walnut, maple, cherry, and other exotic hardwoods. This means that each speaker is as individual as a fingerprint, and as visually stunning as it is sonically beautiful," said Pelland.
Users can opt for construction from a single tonewood, select contrasting woods for more dramatic effects, or cloak those woods in any color they wish. Customers also have the ability to choose a variety of finishes, delicate marquetry and mother-of-pearl inlays, and a range of expressive color options for each speaker's hardware.
Through Princeton Audio's patent-pending external interface, the Site:1 is optimized to integrate into a range of entertainment systems, including music players, televisions, game consoles, portable devices — almost any wired or wireless system. Site:1 is also engineered to be easily upgraded in the years to come to adapt to future changes in technologies, yet another reason Princeton Audio can claim it to be an heirloom-quality product.
The Site:1 is available for order for $459.99 from the company's website at http://www.princeton-audio.com. Design professionals and potential distributors can schedule their own portable audio gallery demo by contacting info(at)princeton-audio.com.
About Princeton Audio: Founded in 2014 by Michael Pelland, Princeton Audio is dedicated to the creation of high-quality, handcrafted audio products, and reclaiming and rejuvenating the proud history of local manufacturing in Princeton, Wisconsin. At Princeton Audio, we promise that our products will be worthy of the music you love, that they will be beautiful, and that they will last.