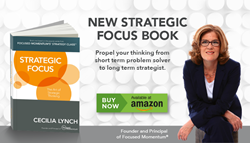 San Francisco, CA (PRWEB) July 19, 2016
Strategy thought-leader, management consultant, and Founder/CEO of Focused Momentum®, Cecilia Lynch, announces the launch of her new book, Strategic Focus: The Art of Strategic Thinking. Based on the popular series from Focused Momentum's® Strategy Class,™ this new book teaches you how to think strategically with 4 simple tools that will change the effectiveness of any strategy discussion.
Perfect for leaders, managers, and entrepreneurs who are responsible for shaping the future of their organization, this book inspires confidence to lead productive strategy meetings that build consensus, unify teams, and increase performance and results.
With over 20 years of experience in corporate leadership and consulting to large companies and non-profits, Cecilia combines practical tools to help leaders facilitate strategy planning and find common ground in their own organizations through strategic tools and practices.
Strategic Focus: The Art of Strategic Thinking demystifies the overwhelming task of developing a strategic plan and is filled with simple steps that anyone can apply. "I love the way Cecilia takes tools and exercises she's used in our organization and packs them together in this book, making it easy for anyone to use," says Dr. Nigella Hillgarth, President & CEO of The New England Aquarium.
With the 4 simple tools outlined in the book, you will be able to:

Refine your Target Audience: primary, secondary, tertiary levels
Clarify your Unique Strategic Position: market focus, offerings, values, core competency
Define your Market: Market Mapping defines the market and your position in it
Pinpoint your Stage of Evolution on the Organizational Life Cycle
The book is available on Amazon and through the company's website at http://www.focusedmomentum.com.
Strategic Focus: The Art of Strategic Thinking is a ideal for:
1. Leaders who are always engaged in strategy development but are frustrated by it
2. Managers seeking more influence in strategy discussions
3. Entrepreneurs who instinctively understand their market, but struggle with aligning actions with their long term end-game.
About Focused Momentum®
Founded in 1999, Focused Momentum® is a strategy development company providing strategy solutions, coaching, and strategic facilitation for entrepreneurs, non-profits, and large corporations. Focused Momentum offers various engagement levels of facilitation and support for organizations that seek strategy solutions to clarify vision, unify teams, and accelerate growth and performance. Focused Momentum provides the following strategy solutions: Strategy Class™, Strategy Boost™, and Strategy Summit. The company publishes books, DIY tools, strategy resources, and offers graphic illustration as part of its strategy facilitation services. The company is headquartered in San Francisco.
Media Contact:
Christine Hildebrand
http://www.emergentSF.com
christinehildebrand(at)mac(dot)com
415.271.0563