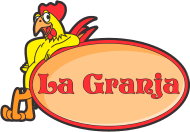 Weston, FL (PRWEB) July 19, 2016
Weston, FL, July 2016 – The La Granja restaurant at 1908 Weston Rd. in the Weston Shoppes have completely updated and remodeled their restrooms for the convenience and comfort of their customers. Now diners who enjoy the fresh Peruvian style cuisine in the family-friendly Weston restaurant can be confident that the restrooms are clean and functional, should the need arise.
These renovations have become a model for other restaurants. Just recently as well, La Granja Apopka created a new Drive Thru to help its customers order who are on the go.
La Granja Restaurants use their own unique recipe for preparing their delicious and flavorful Pollo a la Brasa. Their menu offers the whole, half or quarter chicken combined with rice and beans, or boneless chicken breast with rice and beans, or chicken wings with fries. Also on the menu are beef, pork and seafood dishes and sandwiches, all prepared fresh in their unique Peruvian style.
Having expanded to almost 50 locations in Florida since 1995, La Granja continues to serve delicious and healthy food fast. Customers can choose to dine in or take out a meal to enjoy alone, or family meals that serve four or more, all at a very affordable price.
La Granja Restaurants has won numerous awards in the course of their operation in Florida, including:

Three awards for its achievements in restaurant hospitality throughout the state of Florida at the 2nd annual Almuerzos Y Cenas Awards 2015
La Granja's Racso Bartra and Gustavo Bartra Jr. were both awarded with the Restaurateur of the Year 2014 award.
Most Successful Peruvian Restaurant 2014
Chef Ivan Tucker of La Granja received award for Lunch and Dinner Special Recognition 2014
La Granja is very involved in South Florida community issues, partnering with grass roots youth organizations like ASPIRA, honoring veterans, and offering scholarships to Florida residents of Hispanic and Latino descent to Palm Beach Community College.
ENDS
For further information on LaGranja locations, visit https://www.lagranjarestaurants.com/en/locations/. Additional contact information:
La Granja Corporate Office
3907 NW 49th Street Tamarac, Fl 33309
Phone: (954) 968-7988 info(at)lagranjarestaurants(dot)com http://lagranjarestaurants.com/