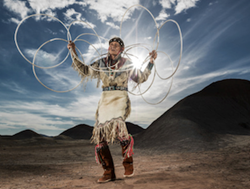 We're honored to bring guests a rare opportunity to immerse themselves in Navajo traditions and culture, and to enjoy the beauty of the ancient tribal homeland
Navajo Homeland, Arizona (PRWEB) July 19, 2016
Restival, the global host of wellness retreats and cultural festivals, will offer guests an exclusive opportunity to explore the traditions, arts and knowledge of the Navajo on the tribe's historic homelands. This new adventure, scheduled for Sept. 12-17, 2016, will encourage guests to unplug from technology, reconnect with one's self and others, and restore physical and mental equilibrium through ancient Navajo culture and rituals together with wellness and bodywork treatments to truly re-calibrate.
Restival Arizona's site is located amid the four sacred mountains that define "Dinétah," the unspoiled tribal homeland in the deserts of northern Arizona. Guests will enjoy a comfortable eco-luxe camp featuring Navajo-made Tipis and bell tents overlooking the Painted Desert, with doors facing east in the traditional manner. The adventure features daily wellness workshops including meditation and yoga; body treatments and beauty therapies; organic dining; writing; gong baths; music and dance.
The Restival experience takes travelers to new dimensions by inviting Diné (Navajo) leaders to lead traditional experiences including Cacao ceremonies, Medicine Wheel, song, art and sweat lodges in an original Hogan, a traditional Navajo structure used as housing or a place of ceremony. Guests will experience the changing seasons in northern Arizona, with average daytime temperatures ranging from 77-86 degrees Fahrenheit and evening temperatures of 50-59 degrees.
This year's highlights include:

Navajo Astronomy: Dr. David Begay, an expert on indigenous astronomy who consults for Jet Propulsion Lab/NASA, will bring the night sky's constellations closer to guests through the use of powerful telescopes and an understanding of the Navajo perspective on the order of the universe.
Storytelling and Harvest Celebration: Elders will bring evening campfires to life by telling traditional stories that connect the Diné to the natural world around them. The Benally family will share traditional dances and songs for the celebration of the harvest and of the full moon, which will occur on Sept. 16.
Song Bird Grandmother: A medicine woman uses the four sacred directions to guide guests through a healing ceremony that opens perspectives to the world, and seeks to reconnect guests with the earth and sky.
Mask Making: Acclaimed multimedia artist Zarco Guerrero, who lives within the Navajo Nation, makes masks for indigenous tribes around the world. His workshops will help guests create their own masks as unique keepsakes that reflect the Restival Arizona experience.
"We're honored to bring guests a rare opportunity to immerse themselves in Navajo traditions and culture, and to enjoy the beauty of the ancient tribal homeland," Caroline Jones, Restival's founder, said. "Far from the hectic schedules and technology of our urban lives, we can reconnect with ourselves, each other, and the natural world. Guided by Navajo elders, guests can detox, recalibrate and engage in the changing seasons while seeking mind and body balance."
To preserve the intimate experience, reservations for Restival 2016 are limited. For more information, please visit http://www.restival.global.
Restival plans to announce details of its newest wellness adventure in November 2016. "We're off to the Sahara for another adventure this year," Ms. Jones said. "Last year's life-changing experience in the Sahara was an incredible trip, and our Restival movement is growing as people increasingly seek to tune out for a while from this technologically saturated world. The Sahara really is the place to switch off, with oceans of sand waves seemingly for miles and the Berber Nomads, a fascinating and humble culture, as our friends setting up a small village within our camp."
About Restival
Restival, the global host of wellness retreats and cultural festivals, curates exclusive travel adventures that allow guests to immerse themselves in ancient--sometimes overlooked--cultures and traditions. Through the influence of nature and the land, guests can disconnect from urban life in small, intimate groups and restore equilibrium to both mind and body. For more information about upcoming Restival adventures, please visit http://www.restival.global, and follow us on Twitter at @restivalglobal and Instagram at restival.global.