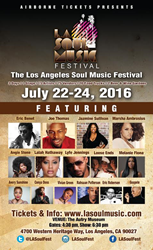 Los Angeles, CA (PRWEB) July 19, 2016
Airborne Tickets and Mark Douglas have raised the bar for modern-day, Los Angelean festival goers by rolling out cutting-edge RFID/NFC wristband technology and a flavor-infused tastemaker experience at a hidden gem live music venue with award-winning, nominated and new generation soul singers on the bill. Live at the Autry in Griffith Park (located at 4700 Western Heritage Way, Los Angeles, CA, 90027) the first annual Los Angeles Soul Music Festival will represent all things "soul" and establish a vibe like no other. From 5 p.m. to 11 p.m. nightly, festival goers will intrigue their senses with choices from over 20 gourmet food trucks, Stella Rosa Winery, craft beer garden and boutique shopping on a cashless campus.
Proud to partner with the Aspire TV Network by Urban "Magic" Johnson, 102.3 KJLH, 94.7 The Wave and 93.5 KDAY radio, the Los Angeles Soul Music Festival is donning the best of the best talents on its illuminated stage under the stars. The confirmed artists schedule goes as follows:
FRIDAY (PM)
6:00-6:45        Rahsaan Patterson
7:00-7:45        Eric Roberson
8:00-8:45        Melanie Fiona
9:00-9:50        Lalah Hathaway
10:10-11:00     Eric Benet
SATURDAY (PM)
6:00-6:45        Goapele
7:00-7:45        Loose Ends featuring Jane Eugene
8:00-8:45        Vivian Green
9:00-9:50        Angie Stone
10:00-11:00    Joe (aka Joe Thomas)
SUNDAY (PM)
6:00-6:45       Conya Doss
7:00-7:45       Avery Sunshine
8:00-8:45       Lyfe Jennings
9:00-9:50       Marsha Ambrosius
10:10-11:00    Jazmine Sullivan
Out-of-town festival attendees can stay close to the action by lodging at one of the partnered hotels such as The Doubletree Downtown L.A., Hilton Pasadena and Glendale, The Line Hotel or L.A. Downtown Hotel.
Interview opportunities will be available for Los Angeles Soul Music Festival artists and players behind the scene onsite at the festival through Jade Umbrella PR.
To purchase tickets for #LASoulFest, please visit their official website.
Stay connected @LASoulFest