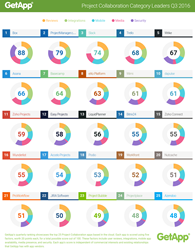 Box has hit the top of the ranking with an impressive score of 88 out of 100. The software scores top marks for security, and the fact it can sync with so many other business apps gives it a score of 19 out of 20 for integrations
Barcelona, Spain (PRWEB) July 20, 2016
GetApp has announced the top 25 applications for project collaboration, following the release of its latest Category Leaders ranking. Box sits at the top of the ranking, while ProjectManager.com and Slack occupy second and third spots, respectively.
Category Leaders is an independent ranking designed to help small businesses get a first look at the top players in the project collaboration software space.
The ranking is based on five different data points, indicating each application's strength within the market. Points out of 20 are awarded for each ranking factor (user reviews, mobile support, integrations, media presence, and security), giving an overall rating out of 100.
"Box has hit the top of the ranking with an impressive score of 88 out of 100. The software scores top marks for security, and the fact it can sync with so many other business apps gives it a score of 19 out of 20 for integrations. ProjectManager.com came second with a score of 79, while Slack nabbed third spot, earning top marks for user reviews and integrations," says GetApp's Category Leaders project manager, Suzie Blaszkiewicz.
Click through to see the full ranking of the top 25 applications for project collaboration.
More about GetApp: GetApp, a Gartner company, is the leading premium business app discovery platform on the web. Headquartered in Barcelona (Spain), GetApp serves as a platform for user-generated and editorial reviews of software and apps for businesses.
###