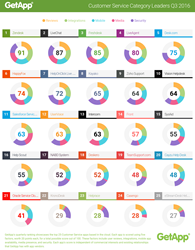 Competition in the customer service software space is hot, and this is reflected by the fact that the top three apps all score over 80 out of 100
Barcelona, Spain (PRWEB) July 20, 2016
Cloud-based business app discovery site GetApp has unveiled its Q3 2016 ranking of the top 25 software for customer service. Zendesk tops the list for the second quarter in a row, while LiveChat and Freshdesk come in at second and third, respectively.
The Q3 Category Leaders ranking aims to give small and mid-sized businesses an at-a-glance overview of the top options in the cloud-based customer service software world.
User reviews, mobile app availability, security, media presence, and application integrations are the five data points used to build the rankings. Each customer service solution is awarded a score out of 20 for these five factors, leading to an overall rating out of 100.
"Competition in the customer service software space is hot, and this is reflected by the fact that the top three apps all score over 80 out of 100 - the only one of GetApp's 27 Q3 category rankings where this happens," says GetApp's Suzie Blaszkiewicz, the ranking's project manager.
"Kudos to Zendesk for achieving an overall score of 90 out of 100, which includes top marks for integrations and mobile app support. Credit should also go to second-placed LiveChat for achieving maximum points for user reviews, while Freshdesk performed strongly in the Q3 ranking to finish third."
Click through to find out the top 25 apps in GetApp's Q3 Category Leaders ranking of customer service software.
More about GetApp: GetApp, a Gartner company, is the leading premium business app discovery platform on the web. Headquartered in Barcelona (Spain), GetApp serves as a platform for user-generated and editorial reviews of software and apps for businesses.
###