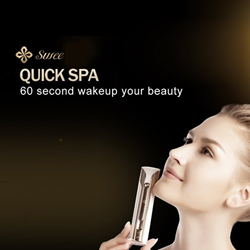 Shenzhen, China (PRWEB) July 20, 2016
Dedicated on delivering an extensive list of smart skincare devices for augmenting the beauty of the ladies, Shenzhen Hui Chao Sheng Biological Technology Co. Ltd has come up with another innovative skincare device, Susee, which is easily available on online portals like Indiegogo.
Susee is a brilliant facial spa machine with unique features like smart skin test, free app analysis and nano ionic sprayer which is convenient for all types of skin. The modern nano spray technology of Susee aids in faster absorption of the water into the skin, thus facilitating a refreshed look and feel.
This contemporary device is excellent for every kind of work atmosphere. "If you're in an air-conditioned room or in a busy street, Susee is an absolute choice for any kind of ambiance," a media person for Shenzhen Hui Chao Sheng Biological Technology Co. Ltd said at a press conference.
The usage of Susee is quite straightforward and doesn't involve too much of complication. If anyone wishes to enjoy the benefits of Susee, all they need to do is hold the device in front of their face at a distance of 6 inches away and spray it on their face, avoiding the eyes. The refreshing mist not only adds a charming feel to the face but extends the wear of makeup.
Susee has been devised with a creative combination from three of the most important features: electronic, skin care and APP service. The three qualities have been judiciously unified to create an ideal device like Susee. According to the originators, Susee is a cutting-edge device displaying the usage of new technologies. "The APP Service of Susee notifies the user of their need in regular intervals. The problems are analyzed and solutions too are suggested by Susee and the user can easily solve their skin-related problem with Nano spray function."
"The ultimate reason behind the production of Susee is to enable ladies to maintain the freshness of their face throughout the day. Susee is easily portable and highly convenient for usage," a PR spokesperson said.
About Susee: This smart skincare device has been innovated by the Shenzhen Hui Chao Sheng Biological Technology Co. Ltd and marketed widely by Indiegogo at amazing offers and unbelievable prices.
Contact Information
Just Encase
Contact Person: Grace
Contact Number: 0755-86537722
Email-id: service(at)susee.biz
Website: https://www.indiegogo.com/projects/susee-smart-nano-moisture-sprayer-for-all-skin/