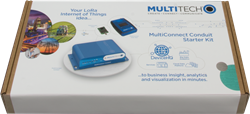 Mounds View, MN (PRWEB) July 19, 2016
Product News
MultiTech announces the Conduit™ LoRa Starter™ Kit - a single box, pre-configured solution providing all necessary components to build and connect a LoRa IoT proof of concept (PoC) to the cloud. Utilizing the Conduit LoRa Starter Kit customers can now easily leverage the power within the MultiConnect Conduit to significantly reduce the time to market for new LoRa ideas and products.
All major components of the Conduit LoRa Starter Kit are pre-configured for use with the Conduit platform and select MultiTech cloud platforms and only require simple actions to finish set-up. Pre-configured MultiConnect Conduit, MultiTech's intelligent and programmable IoT gateway, MultiConnect® mDot™, a LoRa Alliance Certified, LoRaWAN™ RF module and cloud connectors simplify and quicken PoC or site survey execution.
Availability
The Conduit LoRa Starter Kits is available in 868 MHz and 915 MHz versions designed for operation in the European Union and North America market places, respectively. The 915 MHz version for use in Australia will be available in August 2016. The starter kit is available today through contacting MultiTech.
About MultiTech
MultiTech designs, develops and manufactures communications equipment for the industrial internet of things – connecting physical assets to business processes to deliver enhanced value. Our commitment to quality and service excellence means you can count on MultiTech products and people to address your needs, while our history of innovation ensures you can stay ahead of the latest technology with a partner who will be there for the life of your solution. For more information, please visit http://www.multitech.com.
Contact: Jennifer Costello, for MultiTech, Phone: + 781-715-4870
Email: jennifer(at)mgresults(dot)com