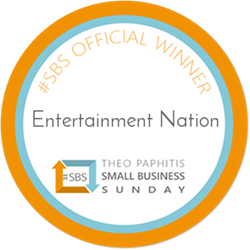 Business and retail entrepreneur and self-confessed Shopkeeper, Theo re‐tweeted Tom's message to his almost 500,000 followers
Stratford Upon Avon, Warwickshire (PRWEB UK) 19 July 2016
A Stratford-upon-Avon based firm has received a business boost from Retail Entrepreneur Theo Paphitis. Last week, Tom Farnell, owner of Entertainment Nation, tweeted Theo about his business during 'Small Business Sunday' and was one of six weekly winners to gain a retweet by Theo to his 500,000 Twitter followers. The weekly initiative, set up by Theo in 2010, now has 1700 #SBS winners and supports small businesses in the UK.
Business and retail entrepreneur and self-confessed Shopkeeper, Theo re‐tweeted Tom's message to his almost 500,000 followers and as a result, http://www.entertainment-nation.co.uk has gained an influx of Twitter followers and increased traffic to their website. They are also profiled on the #SBS website (http://www.theopaphitissbs.com) that is exclusive to all Small Business Sunday winners.
Tom Farnell said, "These are really exciting times for Entertainment Nation. We've been steadily growing in the competitive entertainment agency industry, and winning Small Business Sunday is just the push we need to take us to the next level. Theo's support means the world to us and will help us to spread the word about our agency and raise the profile of our wedding bands. We've got ambitious plans and Theo's recognition will be invaluable in bringing them to fruition."
Small business champion and Ryman Stationery, Robert Dyas and Boux Avenue Chairman, Theo Paphitis, said: "We are thrilled to welcome new #SBS members every week and highlight just how important it is to support our small businesses here in the UK. My vision is that everyone who has ever won an #SBS re-tweet from me becomes part of a friendly club; like-minded individuals who can share successes and learnings. The website and Shop #SBS will also give a valuable profile to the winners chosen and I wish Entertainment Nation every success."
#SBS Winners now also have access to the exclusive members' selling platform http://www.shopsbs.co.uk where hundreds of winners are already selling thousands of products, from unique gifts and bespoke furniture to pet toys or jewellery. It is another opportunity for the #SBS winners to turn tweets into sales.
Anyone looking for a re‐tweet from Theo should tweet him about their business on Sunday between 5 PM and 7.30 PM and include the hashtag #SBS. Six lucky businesses are re‐tweeted every Monday at 8 PM and then invited to enter their profile on the new website, attend the annual #SBS networking event and take advantage of the networking opportunities.