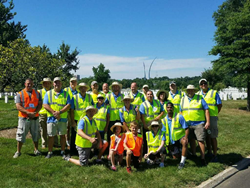 Plainfield, IL. (PRWEB) July 21, 2016
Contact: 54 LLC               
Jack Burris
704-557-0304
jburris(at)engage54.com
July 21, 2016
Spring-Green Lawn Care was proud to take part in the 20th annual Renewal & Remembrance ceremony at Arlington National Ceremony on July 11. Organized by the National Association of Landscape Professionals (NALP), the event began in 1996. Since that time, Spring-Green has grown their participation from two or three individuals to 25 volunteers from seven franchises.
The focus of the work during this year's event was spreading phosphorus and core aeration of the cemetery grounds. In all, more than 88 acres of received an application of phosphorus, while just over 92 acres were aerated.
Travis Snead, Owner of T and T Lawn and Sweeping Services and Spring-Green in Shallotte and Wilmington, NC, believes strongly in the importance of giving back through events such as Renewal & Remembrance. A veteran of the U.S. Army himself, Snead's enthusiasm for the event is real. He proudly exclaims, "I will be coming to this event until the day I die!"
The event is particularly important to Spring-Green CEO Ted Hofer. His father, Tom Hofer, Chairman of Spring-Green, was a college friend of the company founder, Bill Fischer, and served as a Navy pilot in the Vietnam War. "I feel like Spring-Green's involvement in Renewal & Remembrance is an ideal way to honor the service of men like my father," Ted shared.
In all, Renewal & Remembrance involved almost 500 volunteer landscape professionals from throughout the United States. Spring-Green President, James Young finds that Spring-Green employees consider it an honor to participate. "For more than 150 years, Arlington has served as a symbol of the sacrifices our men and women in the military have made for us, and anything we can do to maintain the beauty of this landmark is a privilege."
About Spring-Green Lawn Care
Founded in 1977, Plainfield, Illinois-based Spring-Green Lawn Care has been delivering lawn and tree care services nationwide for more than 39 years. Its service is centered on the beautification of residential and commercial customers in middle-class and affluent neighborhoods and communities. Spring-Green is an attractive opportunity for entrepreneurs and existing green industry business owners who want to align themselves with a business model that has proven economic resilience, healthy profit margins, industry leading business and marketing intelligence, recurring revenue and retirement and succession planning. For more information, visit http://www.springgreenfranchise.com.