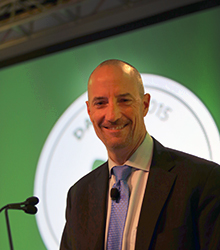 Eddie's commitment to his students, colleagues, and investors, and really to the SBRE industry, epitomizes what small balance real estate is all about. He wholly deserves this honor and we are glad to be a part of it.
Portland, Ore. (PRWEB) July 19, 2016
The CapitalFlow Conference in Portland OR at the end of July will be the scene of the SBRE Awards, including the inaugural SBRE Hall of Fame ceremony. The purpose of the conference is to gather together leading small balance real estate entrepreneurs, including fund managers, syndicators, private lenders, and others operating small balance real estate businesses to share ideas, experiences, and best practices in the way they systematically raise capital to fund their deals.
On Friday at the conference, several SBRE entrepreneurs will be recognized for their achievement in the industry. Included in this group will be NoteSchool founder and Colonial Capital Management fund manager, Eddie Speed, who will be the first ever inductee into the SBRE Hall of Fame which recognizes lifetime achievement in the field of small balance real estate.
"It's an incredible honor being placed into the SBRE Hall of Fame and especially as its first inductee", said Speed. "With all my industry peers and their incredible successes, it's very humbling to be selected by such a high caliber organization. I accept this induction with my deepest appreciation and gratitude to Fairway America."
Speed started in the note business in 1980 at an early age and has now been involved for over 35 years. He founded NoteSchool with the mission to provide superior training and vision concentrated on the note industry that is timely, relevant and accurate and is presented in ways that are easy to comprehend and implement so that it leads to superb results. NoteSchool takes pride in delivering the highest level of note training that produces a path which enables its students to create wealth and a secure financial future.
In addition to running NoteSchool, Speed and his colleagues at Colonial Capital Management also operate a small balance real estate pooled investment fund focused on purchasing discounted notes. Colonial engaged Fairway America in 2014 to assist them in setting up their fund as well as to handle the fund administration. Colonial has raised more than $12,000,000 in investment dollars since its inception, including funds from its listing on SBREfunds.com.
"We have had the pleasure of working with Eddie and his team for the past several years", said Matthew Burk, Fairway America's and SBREfunds.com's CEO. "Eddie's commitment to his students, colleagues, and investors, and really to the SBRE industry, epitomizes what small balance real estate is all about. He wholly deserves this honor and we are glad to be a part of it."
The CapitalFlow Conference has been designed to continue to help facilitate the SBRE community of entrepreneurs and investors. The event will be held annually in Fairway's home town of Portland OR and is expected to attract the leading SBRE entrepreneurs and fund managers from around the United States to gather each year for mind share, mutual learning, collaboration on the key issues they all face, and to enhance their capacity to successfully raise capital for their SBRE enterprise.
In addition to Speed's induction into the SBRE Hall of Fame, awards will also be given in four SBRE categories as follows: Fund Manager of the Year, Emerging Fund Manager of the Year, SBRE Entrepreneur of the Year, and SBRE Syndicator of the Year. Winners will be determined by a combination of factors including online voting at SBREfunds.com.
For Event Information | Contact: Kellen Stevens, SBREfunds.com | Fairway America kellen(dot)stevens(at)fairwayamerica(dot)com
About Fairway America
Fairway America, LLC is a longtime real estate asset based fund manager and real estate finance advisory firm providing strategic business planning services nationwide to SBRE entrepreneurs around the structure, architecture, and administration of proprietary 506 Regulation D pooled investment funds. Fairway's related entities manage two proprietary funds, Fairway America Fund VI, LLC, and Fairway America Fund VII LP, each focused on the small balance real estate space with different asset allocations and investment features. Both funds consider investments nationwide.
About SBREfunds.com
SBREfunds.com is an online education, information and match-making site that exclusively lists small balance real estate investment opportunities. Created by Fairway America, SBREfunds.com provides entrepreneurs and investors with education and connectivity to better capitalize and grow an SBRE enterprise. From connection with investors to strategic capital raising plans to live events, SBREfunds.com is the definitive resource for SBRE entrepreneurs and accredited investors to understand how to successfully work with one another for mutual benefit and growth.
Follow us on Twitter at @sbrefunds , @fairwayamerica, and @sbreguru, and http://www.facebook.com/sbrefunds.
Neither Fairway America nor SBREfunds.com is a registered broker-dealer or investment advisor. None of the Fairway companies perform any activities of a broker or investment adviser, including but not limited to, soliciting investors, providing investment advice, negotiating securities transactions or the terms, conditions or provisions of any offering, or recommending the purchase of securities. This press release does not constitute an offer or solicitation to sell securities in any of the companies mentioned, any funds presenting at SBRE Summit events, or any related or associated companies. Investors must not rely on information provided in this press release for investment decisions.