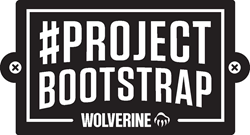 Project Bootstrap was created to connect directly with those who use our products every day.
Rockford, Michigan (PRWEB) July 19, 2016
Wolverine, the more than 130-year-old Michigan-based brand known for its quality work boots and apparel, has launched its second annual Project Bootstrap. As part of the campaign, the brand is launching a contest for consumers to win a construction site crash. Wolverine will partner with the winning consumers to outfit their site crewmembers with a free pair of Wolverine DuraShocks work boots, apparel, lunch and other giveaways.
"Started in 2015, Project Bootstrap was created to connect directly with those who use our products every day," said Todd Yates, president of Wolverine Brand. "We send members of our marketing, product development and sales teams to crash the site and spend time with crewmembers. Our teams also share information about Wolverine, learn more about our consumers' needs, and have some fun by outfitting crewmembers on-site."
Project Bootstrap shares the same core values of Wolverine's founder, G.A. Krause. Krause believed in the possibility of opportunity, supporting employees, the local community, and the importance of building for the future.
Wolverine launched this year's Project Bootstrap by organizing a construction site crash in Detroit, Michigan on June 29th to thank the crew that is building The Scott at Brush Park, apartments and retail space in the heart of downtown Detroit. All future crashes will be determined by nominations submitted on wolverine.com/projectbootstrap.
ABOUT WOLVERINE BRAND
Since 1883, Wolverine has taken pride in crafting durable boots with unrivaled craftsmanship and the highest-quality materials. With a dedication to innovation, Wolverine provides dependable comfort and style to hardworking men and women all over the world. For those who believe in hard work and uncompromising commitment, Wolverine offers the footwear, apparel and accessories to get the job done. For more information visit http://www.wolverine.com. Wolverine is a division of Wolverine Worldwide.