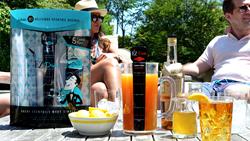 We believe you shouldn't have to spend time behind the bar at parties instead of mingling with guests and enjoying your time with family and friends.
New York, New York (PRWEB) July 19, 2016
EZ-Drinks is a customized pitcher that comes with five cocktail rulers to help people create the perfect cocktails, effortlessly, every time. Cocktails that are known to be complicated were originally designed to be created by skilled mixologists, until EZ-Drinks was created. The patented design uses step-by-step instructions to help even the most novice bartender or party host serve up delicious, perfectly made cocktails. Currently, EZ-Drinks is hosting a campaign on Kickstarter to raise $20,000 in 40 days.
The idea for EZ-Drinks was born on the 4th of July by creator Lee Morgan. In the backyard of his childhood home in the suburbs of Pittsburgh, EZ-Drinks was created when founder Lee Morgan found it difficult to create consistent, delicious cocktails for the large holiday party. Afterward, he got out a pen and paper and the cocktail creation system was born. EZ-Drinks' design is revolutionary. The pitcher and cocktail rulers make it easy to create 48 oz. batches of 20 different delicious, hand-crafted cocktail recipes
"We believe you shouldn't have to spend time behind the bar at parties instead of mingling with guests and enjoying your time with family and friends," said Morgan. "Right now, creating cocktails not only takes time, but a lot of tools. With EZ-Drinks, people only need our device and their ingredients. Also, clean-up is a breeze because both the customized pitcher and cocktail rulers are dishwasher safe."
Each EZ-Drinks customized pitcher comes with five cocktail rulers. Each ruler comes marked with four distinct and perfected cocktail recipes. Decorative lines indicate where to fill each ingredient. Each ruler has a base spirit: rum, vodka, gin, tequila and whiskey. The number of ingredients for each is minimal, three or four per recipe. The suggested ingredients contain no artificial sweeteners or preservatives and can be easily found in a grocery store, on-line or liquor store. The key elements of EZ-Drinks are simplicity and taste.
The craft cocktails that EZ-Drinks allows you to create are: White Lady, Wake-up Call, Raspberry Collins, Negroni, Bourbon & Berries, Whiskey Smash, Tennessee Outlaw, Brown Derby, Margarita, Hellfire, Strawberry Rita, La Paloma, Mai Tai, Passion Punch, Ginger Mojito, Daiquiri, Cosmo, Midtown Martini, Summer Spritz and Summer Peach.
EZ-Drinks is currently available for pre-order starting at $15 for one customized pitcher and five cocktail rulers and $45 for two. To pre-order EZ-Drinks or to learn more, please visit: bit.ly/EZDrinksKS.
ABOUT EZ-DRINKS
No matter what the occasion may be, EZ-Drinks believes that mixing great drinks should be as fun and trouble-free as possible. That's why Lee Morgan created the EZ-Drinks system. The simple-to-use rulers feature traditional cocktails perfected by one of America's leading mixologists. Serving wonderful drinks has never been easier. EZ-Drinks elevates all of your at home entertaining for any of your events. To learn more about EZ-Drinks, please visit http://www.ez-drinks.com.