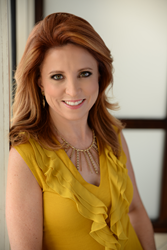 El Paso, TX (PRWEB) July 22, 2016
Lizzie has been elected to New York Life's 2016 Agents Advisory Council (AAC). Founded in 1946, the AAC is a prominent group of 24 New York Life agents elected by their peers to communicate the issues and perspectives of their fellow agents. Members of the AAC work with senior management to develop and implement ideas that will benefit families and businesses in their local community.
Mrs. Dipp Metzger, a New York Life Agent for 7 years, was elected to the Agents Advisory Council at a recent awards and recognition educational conference.
Lizzie was born in El Paso, TX. She is a nationally noted financial professional receiving the 2013 of Advisors Today's "Four Under Forty Award" and is on the current Top Financial Advisor's list in Latino Leaders. Latino Leaders Magazine has featured the top Latinos in the United States, including politicians, sports stars, business owners and other relevant and successful leaders. She has also been featured in various publications and media including CNBC, the Wealth Channel Magazine, National Underwriter, Diversity Today, and Latina Style.
New York Life Insurance Company, a Fortune 100 company founded in 1845, is the largest mutual life insurance company in the United States* and one of the largest life insurers in the world. New York Life has the highest possible financial strength ratings currently awarded to any life insurer from all four of the major credit rating agencies: A.M. Best (A++), Fitch (AAA), Moody's Investors Service (Aaa), Standard & Poor's (AA+).**
Headquartered in New York City, New York Life's family of companies offers life insurance, retirement income, investments and long-term care insurance. New York Life Investments*** provides institutional asset
management. Other New York Life affiliates provide an array of securities products and services, as well as retail mutual funds.
Please visit New York Life's Web site at http://www.newyorklife.com for more information.
*Based on revenue as reported by "Fortune 500, ranked within Industries, Insurance: Life, Health (Mutual)," Fortune magazine, June 15, 2015. See http://fortune.com/fortune500/.
**Individual independent rating agency commentary as of 8/11/15.
***New York Life Investments is a service mark used by New York Life Investment Management Holdings LLC and its subsidiary, New York Life Investment Management LLC.
SMRU 1682815