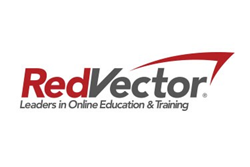 We know BCSP credentials are the marks of the safety professional like the P.E. designation is for engineers or the CPA designation is for accountants, and we're proud to deliver courses that help employees earn these certifications
Tampa, FL (PRWEB) July 19, 2016
RedVector, the leader in eLearning and workforce training solutions for the architecture, engineering, construction (AEC), industrial and facility management industries, delivers accredited safety training courses and tools to help professionals improve safety practices and maintain safety certifications and credentials from the Board of Certified Safety Professionals (BCSP).
The BCSP is recognized for setting the standard for credentialing for safety, health, and environmental practitioners in order to enhance the safety of people, property, and the environment. Over 40,000 individuals have achieved a CSP Certification, ASP Certification, and others from the BCSP.
No other safety certification holds the same level of demand by employers and government agencies, and businesses haven proven greater value using these designations. Accordingly, RedVector has developed approximately 200 approved safety courses, as well as license search tools, to help industrial and AEC professionals meet the continuing education requirements of the BCSP. These courses will help them maintain their CSP certification, ASP certification, OHST certification, CHST certification or CET certification.
"We are on a constant quest to help our customers strengthen safety practices and reduce risk," said Bobby Person, RedVector Product Director. "We know BCSP credentials are the marks of the safety professional like the P.E. designation is for engineers or the CPA designation is for accountants, and we're proud to deliver courses that help employees earn these certifications."
In addition to BCSP-approved courses, RedVector's complete health, safety and environment curriculum contains best-in-class safety training courses, including OSHA 10 and more.
About RedVector
RedVector sets the standard for excellence in online continuing education and training for the architecture, engineering, construction (AEC), industrial and facility management industries and holds nearly 100 state and national accreditations. RedVector offers individual courses as well as large-scale corporate training solutions featuring customizable and easily accessible online universities with a full range of tracking and reporting features. With an online library exceeding 2,250 courses authored by more than 100 subject matter experts, RedVector serves professionals and organizations in all 50 states. The recipient of numerous community honors and industry awards, RedVector was founded in 1999 and is headquartered in Tampa, Florida. For more information, call 1-866-546-1212 or visit http://www.RedVector.com.