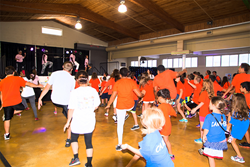 (PRWEB) July 21, 2016
Come join or be a part of one of the largest summer events for camps with over 3,000 participants. This year, being the 5th anniversary, it will be bigger than ever! In addition to dancing, demos, health vendors, goody bags and raffles, there will be a Crazy Games Kidz Zone, Obstacle Course, Bounce Houses and other fun games and activities.
Thanks to sponsors like Quantum Foundation, Palm Healthcare Foundation, United Way of PBC, La Granja, Finity Tek Designs, Children Services Council of PBC, Whole Foods, Alpha Media, WXEL and The Salvation Army, Digital Vibez will be reaching thousands of youth with the message of promoting health by way of dance, fitness, and health education to help end childhood obesity in Palm Beach County. As a non-profit organization, Digital Vibez has partnered with local organizations like Prime Time PBC, Genesis Community Health and the City of West Palm Beach PATHWAY Initiative to help enhance the quality of the KidsFit Jamathon.
Digital Vibez, established in 2010, is an innovative non-profit organization based in Palm Beach County that specializes in advancing educational fitness through technology and the art of dance. We are passionate about reaching youth in underserved communities. Over the past 5 years, Digital Vibez has partnered with local afterschool sites, community based organizations, and summer camp programs to deliver an engaging fitness program that promotes the adoption of lifelong healthy behaviors. All Digital Vibez programs and messages are aligned with countywide health and wellness initiatives promoted through the Palm Beach County School District, the Florida Department of Health Palm Beach, and affiliated health and education organizations.