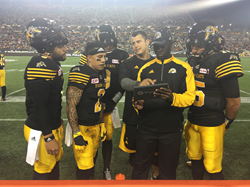 "The SkyCoach instant replay system has proved to be a real asset to both our players and coaches this season"
Shreveport, Louisiana (PRWEB) July 20, 2016
SkyCoach today announced that it was selected as the coach's sideline video provider for the Canadian Football League (CFL). The coaches and players are now allowed to view game video on the sideline and in the press box during games.
SkyCoach provides sideline instant replay to many teams around the world, though the Canadian Football League is the first professional football organization to deploy the reviewing of game video on the sidelines during regular season play. The NFL will only use replay video in exhibition games this year, while the NCAA has tabled in-game video use until the 2017 season. Coaches and players are able to review the last play immediately after it occurred, as well as filter for prior plays based on specific selections tagged by spotters.
"SkyCoach revolutionized high school football by providing in game video replay to coaches and players. We knew it was only a matter of time before professional sports organizations would implement similar technology," states Keith Simpson, CEO of SkyCoach. "The CFL is paving a path to the future for professional sports organizations by adopting in game video review. We are very excited to work with such a forward thinking organization."
"We continuously evaluate new technologies and methods to improve our game. Our Competition Committee was convinced that being able to view game video via tablets on the sideline would improve the product on the field," said Glen Johnson, SVP Football at the CFL. "The SkyCoach solution gave us the opportunity to prove them right in a very timely and cost effective way."
CFL Teams began using SkyCoach during exhibition games, as well as preseason practice beginning in June. "The SkyCoach instant replay system has proved to be a real asset to both our players and coaches this season," says Ross Folan, Director of Video Operations and I.T. Coordinator for the Calgary Stampeders. "We use SkyCoach on both the sideline and in the spotters' box to review video and make immediate adjustments during the game. The system has been deployed successfully at each CFL stadium meaning the coaches can count on having their SkyCoach video on the road as well as at home. The Calgary Stampeders are pleased not only with the product but also with the SkyCoach team's strong level of support that comes with it."