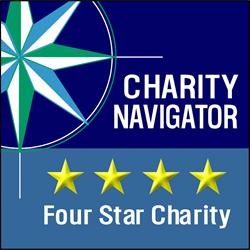 Paterson, NJ (PRWEB) July 22, 2016
Eva's Village once again earned 4 out of a possible 4 stars from Charity Navigator after the nonprofit watchdog agency updated the way it evaluates a charity's financial efficiency and capacity on June 1. An overall score of 90 or more out of 100 points in several categories qualifies a charity for 4 stars. Categories rated include Financial Health and Accountability & Transparency.
While nearly 27% of the 8,000 charitable organizations evaluated saw their ratings change, Eva's Village earned the top distinction for a 9th consecutive year, placing them among the 6% of charities that have retained Charity Navigator's 4-star rating for at least five consecutive years. Read more about Eva's Village evaluation.
Charity Navigator adopted the new metrics to better "capture an organization's financial efficiency and capacity," and to "provide potential donors with more information to make smarter giving decisions," explained the rating organization. The new metrics now use three-year averages rather than data from the most recent fiscal year to calculate program, administration, and fundraising expenses, fundraising efficiency, and working capital ratio. It also dropped primary revenue growth as a metric, replacing it with a liabilities-to-assets ratio, using data from the most recent fiscal year. No changes were made to metrics for the accountability and transparency categories which are also factored into a charity's rating.
More about Charity Navigator
America's largest independent resource for evaluating nonprofits, Charity Navigator, is a 501 (c) (3) public charity, which provides assessments and ratings information free of charge to the public. Since 2002, Charity Navigator has awarded only the most fiscally responsible organizations a 4-star rating. In 2011, the rating agency added 17 metrics, focused on governance and ethical practices as well as measures of openness, to its ratings methodology. These Accountability & Transparency measures account for 50 percent of a charity's overall rating, and reveal which charities operate in accordance with industry best practices and whether they are open with their donors and stakeholders.
More about Eva's Village
Founded by Msgr. Vincent E. Puma in 1982, Eva's Community Kitchen began by serving 30 meals a day in Paterson to feed the hungry. In response to the related issues of poverty, addiction, mental illness and homelessness in the community, additional programs and services grew out of the Community Kitchen to become Eva's Village, a non-profit, social service, anti-poverty organization that is one of the most comprehensive in New Jersey. For more than 30 years, Eva's Village carried out its mission to feed the hungry, shelter the homeless, treat the addicted, and provide medical and dental care to the poor with respect for the human dignity of each individual. Today, Eva's Village helps thousands of individuals rebuild their lives each year through 20 integrated programs addressing needs in the community for Food & Housing, Medical & Recovery Services, and Education & Training.