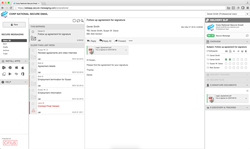 "We are incredibly excited to expand our availability in the UK through the MessageStream Cloud Marketplace," said Josef Hans Lara, VP of Business Development, Cirius.
Vancouver, BC (PRWEB) July 20, 2016
Cirius, a provider of cloud-based secure messaging, large file sharing, secure e-signatures, today announced a partnership with Giacom, one of the UK's largest Microsoft Cloud Service Providers (CSPs). The partnership positions Cirius as the sole secure messaging and secure e-signature solution provider in the MessageStream Cloud Marketplace, the UK's largest provider of cloud-based applications.
Cirius will deliver a UK-hosted version of its secure workflow enhancing solutions through MessageStream to complement Giacom's current Microsoft Office 365 and Hosted Exchange offerings. Simple to deploy and use, Cirius enables users to protect, track, control and manage email and documents in real time without leaving their email application. The solution enables companies to protect private information, comply with regulations and select data residency, while improving productivity.
Using Cirius's exclusive secure e-signature feature, business users will be able to e-sign and send documents easily while ensuring the messages and files remain fully secure via authentication and encryption during transmission and storage. Cirius works on desktop and mobile devices and integrates into existing email platforms without requiring installations, downloads, traditional encryption keys or certificates to manage.
"Our channel partners want effective security solutions for their customers that provide information protection but are also easy to set up and use," said Ian Beckwith, Business Development Manager, MessageStream. "By including Cirius Secure Messaging in our Cloud Marketplace, we deliver the security, control and seamless integration features that complement our existing Hosted Exchange and Office 365 offerings."
As the only secure messaging solution available in the MessageStream Cloud Marketplace, Cirius delivers several key features, including:

Advanced messaging security. Fully protect messages and attachments during transmission and storage with one-click encryption.
Large file sharing. Quickly send and secure files up to 5 GB, bypassing file size limitations.
Message tracking and control. Receive automatic tracking notifications, recall messages (even after opened) and control whether messages can be forwarded or printed.
Secure e-signatures. E-sign and send documents easily and legally, ensuring they will remain secure throughout the process.
"We are incredibly excited to expand our availability in the UK through the MessageStream Cloud Marketplace," said Josef Hans Lara, VP of Business Development, Cirius. "Our focus all along has been to create a channel-friendly, cloud-based security solution that is simple to use, solves the ever-evolving challenges of security and data protection, and facilitates business communications for highly-regulated organizations as well as SMBs. As a leader in hosted solutions, MessageStream helps us reach UK resellers who can benefit from our unique solution."
Available to MessageStream Cloud Marketplace resellers on July 29, Cirius will expand its reach in the UK, delivering secure messaging to resellers of all sizes and in a variety of industries.
About Cirius
Cirius offers cloud-based solutions that help organizations easily secure, track, and control B2B, B2C and internal messages, files, and information workflows. Cirius integrates easily with Office 365, Outlook, and other email and cloud-based applications solutions to improve user productivity and facilitate information sharing and control, while maintaining industry and data privacy requirements from any application, on any device. Used by more than 7,000 organizations worldwide, the Cirius Secure Messaging solution can be used by any department to protect their messages and information workflow without changes to existing infrastructure. Cirius is the simplest, most secure way to share, track, and manage information workflows in the digital enterprise. For more information, visit http://www.cirius.com
About Giacom
Founded in 1999 by CEO Nick Marshall, Giacom was initially an ISP serving tens of thousands of consumers and business, then quickly included web, email and server hosting to the range of services. With the addition of our own proprietary Email Security service in 2006, Giacom built a reseller network that is now envied throughout our industry. Now celebrating 17 years of providing much-needed pedigree in a fast-paced marketplace, Giacom operates as the fourth largest global cloud-based Microsoft Exchange network outside of Microsoft with MessageStream Cloud Marketplace.
MessageStream is Giacom's successful cloud reseller channel, providing a range of cloud services to 3600 Partners throughout the UK and Europe. These services include Hosted Exchange, Hosted SharePoint, Hosted Email Security, Hosted File Backup, and Microsoft Office 365. For more information, visit: http://www.messagestream.com/