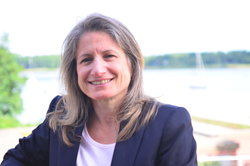 Biddeford, Maine (PRWEB) July 19, 2016
The University of New England announces the appointment of Jane E. Carreiro, D.O., as new dean of the UNE College of Osteopathic Medicine. Carreiro will begin her appointment on November 1, 2016. She will serve as Dean Designate beginning August 1, 2016.
"Jane Carreiro has been a national and international leader in osteopathic medicine for many years," said UNE President Danielle N. Ripich, Ph.D., of Carreiro, a UNE faculty member since 1993. "She is a specialist in pain management in the pediatric population and has a strong foundation in primary care. Her knowledge of osteopathic medical education and dedication to students is well recognized. She knows Maine and is networked throughout the state. She will lead the college from a firm grounding in physician education."
Carreiro's appointment comes after a nationwide search that began in January when outgoing Dean Douglas L. Wood, D.O., Ph.D., announced he would be stepping down upon the identification of his replacement. Wood will be continuing at UNE in an advisory capacity while Carreiro transitions into the leadership position.
Carreiro had been serving as Director of Graduate and Continuing Medical Education and as Professor and Chair of the Department of Osteopathic Manipulative Medicine at UNE. The search committee, which was chaired by Jon Ryder, D.D.S., dean of the UNE College of Dental Medicine, deemed Carreiro the best-suited candidate for the job based on her high levels of experience across the spectrum of osteopathic education.
In addition to her twenty-three year tenure at UNE, Carreiro holds a visiting faculty position at the Winer Schule fur Osteopathie in Vienna, Austria and is Honorary Chief of Pediatric Manual Medicine for the Deutsche Geselishaft fur Osteopathische Medizin in Manheim, Germany. She has served as faculty and medical consultant at the Royal Melbourne Institute of Technology University in Melbourne, Australia; the European School for Osteopathy in Maidstone, England; and the Osteopathic Centre for Children in London. Carreiro is also chair of the Board of Directors of the Osteopathic International Alliance and past-president of the American Academy of Osteopathy. She serves on the osteopathic recognition committee for the Accreditation Council for Graduate Medical Education and as an expert advisor on training and practice guidelines for the World Health Organization. Her research interests include pediatric OMM and the innervation patterns and functional anatomy of the spine and pelvis.
Dr. Carreiro has been a dedicated faculty and member of UNE's College of Osteopathic Medicine. "COM was founded by a group of dedicated and committed osteopathic physicians who wanted to ensure that their patients and the families of those patients would receive the best health care possible," she said upon knowing of her appointment. "UNE continues to fulfill that dream as the largest provider of physicians in this state and further expands it by training health care practitioners, dentists, and pharmacists to care for the people of New England and the nation. I am incredibly honored to serve UNE and the College of Osteopathic Medicine as Dean and Vice President for Health Affairs and to continue to work with our talented and committed faculty and staff to train the next generation of osteopathic physicians and their health care partners."
The UNE College of Osteopathic Medicine has graduated more than 3,000 osteopathic physicians since its founding in 1978. U.S. News & World Report has recognized it for its national leadership in primary care training, geriatrics, and rural medicine. Dean Wood led the college when it expanded its class to 175 students per class. President Ripich and Provost Koelbl are confident that under the direction of Dean Jane Carreiro, the college will undoubtedly continue to provide cutting edge medical education.
The University of New England is Maine's largest private university, an innovative educational community with two distinctive coastal Maine campuses, a vibrant new campus in Tangier, Morocco, and a robust offering of degree and certificate programs online. UNE is home to Maine's only medical and dental schools—part of a comprehensive health education mission built on a pioneering interprofessional approach that includes pharmacy, nursing and an array of allied health professions.
UNE. Innovation for a healthier planet. Visit http://www.une.edu