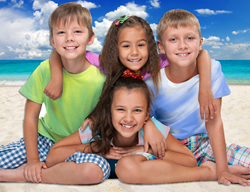 You don't need the sun to have color changing fun when you're wearing Shadow Shifter.
Roseville, Michigan (PRWEB) July 21, 2016
Thermochromic research and dyeing company Dyemurex, Inc. have released a new product called Shadow Shifter Kids which is a color changing t-shirt that changes color in reaction to heat or water.
The founder, researcher and President of Dyemurex, Inc. explains how this product came about:
"Born in England during the colorful times of the Beatles not far from Liverpool, I saw bright clothing, modern furniture, listened to cool music and played on Britain's most popular seaside resort, Blackpool. Those days of arcade games, Blackpool rock candy and sunny days on the sands will always make me feel happy. Moving through the 70s and 80s of music, fashion and computer tech brought me to 1991 when I saw my first Hypercolor t-shirt. Touch the t-shirt and it will change color. I bought two of these t-shirts and became fascinated by how the tech worked."
"In 1994 I traveled to the U.S.A. to see a country that was a million times bigger than our little island. 'I've told you a million times, don't over exaggerate.'. America then became my home and in 2005 I recalled my Hypercolor shirt. At that moment I decided to re-develop the concept with much more durable and stronger color changing effects and after many years of hard work and research I finally produced Shadow Shifter."
Shadow Shifter color changing clothing instantly reacts to body heat and the surrounding environment. The t-shirts can be machine washed and dried with no special instructions and will last for years of wear. Shadow Shifter color changing t-shirts come in 4 different color effects and are available for kids and adults. This clothing is wearable in all seasons, indoors/outdoors and dyed in the U.S.A.. It even changes color when splashed with water on those hot summer days.
Dyemurex, Inc. has been selling the adult version for over 5 years with great success through different brand names in many major retail stores such as Nordstrom, Tillys, Zumies, Urban Outfitters, ASOS and this new release is for an exclusive Kids t-shirt collection which puts a new spark into the children's apparel industry. These t-shirts are being sold worldwide and are gaining attention from larger retailers that are using Dyemurex Co-branding Program where major brand name can use Dyemurex dyeing services in the U.S.A..
Dyemurex is well known as a lead authority in thermochromic dyeing techniques by solving issues such as home washing/drying with no special instructions and durable dyes that are damage resistant during screen printing. These breakthroughs in thermochromic dyeing techniques provides a product that lasts for years. All products are processed in the U.S.A. for quick turnarounds and high quality standards.
View Shadow Shifter Kids on-line interactive demo at http://www.shadowshifter.us and watch the newly released Shadow Shifter Kids video. For more information please send emails to karl(at)shadowshifter(dot)us.