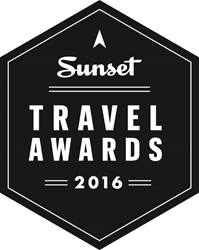 The region's rich heritage, spectacular landscapes, and memorable experiences are reflected in this compelling shortlist of Sunset Travel Awards winners.
Oakland, CA (PRWEB) July 20, 2016
Today, the editors of Time Inc.'s (NYSE: TIME) Sunset, the premier guide to living in the West, announced the winners of the 2016 Sunset Travel Awards. The list showcases the year's best hotels, food destinations, wineries, and other attractions throughout the American West, as chosen by Sunset editors, along with a panel of esteemed travel experts. The list of winners are featured online at http://www.sunset.com/travelawards and in the August issue of Sunset.
"As a global tourism destination as well as a hub for technology and cultural diversity, the American West is having its moment. This past year, California alone was the destination for over 257 million trips*," said Irene Edwards, Sunset's Editor-in-Chief. "The region's rich heritage, spectacular landscapes, and memorable experiences are reflected in this compelling shortlist of Sunset Travel Awards winners."
As we head into peak summer season, the Sunset Travel Awards will guide adventurers to the best in the region. From outdoor enthusiasts to adrenaline junkies, family road-trippers to food and wine lovers, travelers of all types can use this list of winners to plan where to go next:

Best Adventure Town: Park City, UT
Best Beach Town: Tofino, BC
Best Food Town: Portland, OR
Best Girlfriends Getaway/Spa: Catamaran Resort Hotel and Spa, San Diego, CA
Best Shopping Destination: Santa Fe, NM
Best Wine Country Town: Paso Robles, CA
Best Bed & Breakfast: The Canyon Villa, Paso Robles, CA
Best Desert Hotel/Resort: The Ritz-Carlton, Rancho Mirage, CA
Best Hotel/Resort for Families: Tenaya Lodge at Yosemite, Fish Camp, CA
Best Hotel for Pets: Surfsand Resort, Cannon Beach, OR
Best Restaurant at a Hotel/Resort: Imperial at Hotel Lucia, Portland, OR
Best Luxury Camping: Moab Under Canvas, Moab, UT
Best Mountain Hotel/Resort: The Arrabelle at Vail Square, a RockResort, Vail, CO
Best Water View Hotel/Resort: Puakea Ranch, Hawi, HI
Best Wine Country Hotel/Resort: Olea Hotel, Glen Ellen, CA
Best Microbrewery or Distillery: Green Flash Brewing Company, San Diego, CA
Best Vineyards/Tasting Room Experience: Willamette Valley Vineyards, Turner, OR
Best Outdoor Music Venue: Santa Barbara Bowl, Santa Barbara, CA
Best Train Experience: Durango & Silverton Narrow Gauge Railroad, Durango, CO
Readers Choice Category: National Park: Denali National Park
"While judging this year's entrants with our panel of industry experts, we realized that the winners reflected what people want out of a vacation experience right now," said Christine Ciarmello, Sunset's Deputy Editor of Travel. "These days, traveling isn't simply about getting away from home, but about satisfying other needs, like our stomachs or our souls."
Along with the list of Sunset Travel Award winners, Ciarmello and the Sunset editorial team identified some of the hottest trends in summer travel:
The Food Pilgrimage: Now more than ever, we are seeing eaters who will travel for food and plan their trip accordingly.
Friendmooning is the New Romantic Getaway: Vacationers are discovering that trips might be even more fun with their squad than with their mate.
Wine on the Farm: Modern wine lovers want to know as much about the winemaker as they do about the land.
Locavore Souvenirs: The souvenir has transcended from trinket to treasure. Approximately 86 percent of travelers want to return with a cultural insignia.
Wild + Wifi Free: Adventurers are craving their own Lewis and Clark-style discovery: to find something not Instagrammed to death.
Desert Downtime: Wellness tourism, now a $500 billion-a-year industry, includes destinations structured around mindful moments, juice bar nights out, and spa sojourns.
Home Sweet Hotel: With the runaway success of Airbnb, people don't want consistency as much as they want originality. Travelers like nesting in neighborhoods, on streets away from business districts or main tourist centers.
Sleeping Outdoors is In: There's never been a better time to spend the night in a tent. The number of new luxury camps, or glamps, has skyrocketed.
Craving for Nostalgia - We're experiencing a nostalgia epidemic—vinyl, Instagram filters, Chalkboard paint, Airstreams. Steam-train travel embraces yesteryear romantically, and it, too, has made a comeback.
To see which Sunset Travel Awards winners reflect these big trends, go to http://www.sunset.com/travelawards, or pick up the August issue of Sunset.
Finalists for each category were selected by Sunset editors and featured on Sunset.com in February 2016. One winner in each category was selected by the Sunset Travel Awards Advisory Board, which includes a dozen distinguished travel professionals from across the West. For more information about submission guidelines, the judging process, and the rules, go to sunset.com/travelawardsrules.
Stay up-to-date on the Sunset Travel Awards by liking Sunset on Facebook (http://www.facebook.com/sunsetmagazine), and following @SunsetMag on Twitter, Instagram and Pinterest #sunsettravelawards.
*Source: Tourism Economics; US Dept. of Commerce
ABOUT SUNSET
Sunset (http://www.sunset.com) is the leading lifestyle brand in the West. Through magazines and books, events and experiences, and digital and social media, Sunset covers the West's best flavors, destinations, design trends, and innovations. Sunset engages and inspires an audience of over five million educated, active and affluent consumers every month through its five regional print editions—Pacific Northwest, Northern California, Southern California, Southwest and Mountain—as well as via all tablet devices and its website. In addition to its print and digital publications, Sunset showcases the region's unique lifestyle and noteworthy destinations through its flagship events, established home programs, licensing partnerships, books and International Wine Competition.
ABOUT TIME INC.
Time Inc. (NYSE:TIME) is one of the world's leading media companies, with a monthly global print audience of over 120 million and worldwide digital properties that attract more than 150 million visitors each month, including over 60 websites. Our influential brands include People, Sports Illustrated, InStyle, Time, Real Simple and Southern Living, as well as more than 50 diverse titles in the United Kingdom.