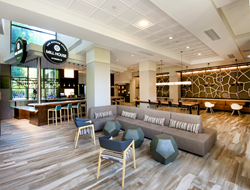 The new concept menu will resonate with the local, sustainable mentality that is rapidly seizing Pittsburgh's attention
Pittsburgh, Pennsylvania (PRWEB) July 21, 2016
The Pittsburgh Airport Marriott introduces The Runner Stone Mill House Restaurant and Bar in conjunction with the launch of the Marriott Greatroom concept this spring. This midscale, casual eatery combines an indigenous history with the current food trends capturing the attention of local and national restauranteurs.
The Marriott Greatroom Bar concept is a global brand design and identity program for Marriott hotels worldwide. The Greatroom Bar operates as the beacon of the Greatroom [lobby], emphasizing expertly curated bourbon flights and hand-crafted cocktails paired with a sophisticated menu—The Runner Stone Mill House manifests just this. In accordance with the farm to table and craft beverage movements, menus feature a wide-variety of appetizing food and drink pairings to produce an overall relaxing, yet cohesive experience. Farm to table ingredients include various meats and produce and one of the most coveted- the locally sourced 1919 Root Beer, on tap.
Locally influenced by the backbone of Pittsburgh's rich mill history with a motivation from regional and seasonal ingredients, the Runner Stone Mill House menus are embedded with a rich story. The restaurant's name is inspired by the Watson Family, operators of a grist mill in Coraopolis, PA from 1830-1887. Grist mills are historically recognized for gathering communities together and providing nourishment for all—characteristics to which the Runner Stone Mill House embodies. In a community-like manner, each menu item has been constructed for table sharing, beginning with Quick Bites and Shareables to Fork & Knife, ending with Sweet Delights.
"The new concept menu will resonate with the local, sustainable mentality that is rapidly seizing Pittsburgh's attention," says Executive Chef Joe Comunale. "Along with bringing some of the region's best products, I am particularly proud to acquaint the menu with recipes and ingredients from my personal repertoire dating back three generations within my family, one of which include our house-made pork sausage, a true Pittsburgh-Italian flavor."
"The timing of this restaurant was the perfect opportunity to take advantage and incorporate the Farm to Table movement into our dynamic menu," says Pittsburgh Airport Marriott General Manager Tom Hardy. "Our guests will have the opportunity to recognize from where their food originates while simultaneously tasting the freshest ingredients and supporting local business."
Managed by Crescent Hotels and Resorts in Fairfax, Virginia, The Runner Stone Mill House and The Pittsburgh Airport Marriott are located 5 miles from the Pittsburgh International Airport and 12 miles from downtown Pittsburgh. The Runner Stone Mill House operates from 6:00 am-11:00 pm (M-F), 7:00 am-10:00 pm (Saturday & Sunday) with bar service from 11:00 am-12:00 am daily. To learn more, visit http://www.pittsburghairportmarriott.com or call 412.788.8800. Join the social conversation on Facebook (Facebook.com/MarriottPittsburghAirport), Twitter (@marriottpitt) and Instagram (@pghairportmarriott).
###
About Crescent Hotels and Resorts: Crescent Hotels & Resorts is a nationally recognized, top-5 operator of hotels and resorts. Crescent currently operates almost 100 hotels and resorts in 36 states in the US and 4 provinces in Canada. Crescent is one of the few elite management companies approved to operate upper-upscale and luxury hotels under the brand families of Marriott, Hilton, Starwood, Hyatt and IHG. Crescent also operates a collection of legendary independent hotels and resorts. Crescent's clients are made up of hotel REIT's, private equity firms and major developers. For more information, please visit http://www.chrco.com.
About Marriott Hotels: With over 500 hotels and resorts in nearly 50 countries and territories around the world, Marriott Hotels is evolving travel through every aspect of the guest's stay, enabling the next generation to Travel Brilliantly. Boldly transforming itself for mobile and global travelers who blend work and play, Marriott leads the industry with innovations, including the Greatroom Lobby, Future of Meetings, and Mobile Guest Services that elevates style & design and technology. All Marriott hotels participate in the award wining Marriott Rewards frequent travel program that allows members to earn hotel points or airline miles for every dollar spent during each stay. For more information, visit http://www.MarriottHotels.com. To join the ongoing Marriott conversation, like us on Facebook (Facebook.com/Marriott) and follow us on Twitter (Twitter.com/Marriott, @Marriott).