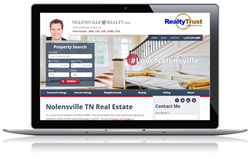 "Now, I have one of the best looking websites within my target market, and the fact it is managed within the entire IXACT Contact ecosystem is an added bonus."
Toronto, Ontario (PRWEB) August 09, 2016
IXACT Contact announces the winners of the successful Best REALTOR® Website contest, celebrating the overwhelming success of it's REALTOR® Websites product.
After receiving a high volume of contest entries, a team of real estate marketing experts gathered to judge the websites based on customization, functionality, creativity, and use of features.
IXACT Contact is proud to announce Flint Adam of Nolensville Realty as the first place winner. Flint's Nolensville Realty page is a strong example of how Realtors can customize IXACT Contact's websites. Visitors to Flint's website can browse listings, search according to their preferences, and even sign up to receive alerts about specific properties and areas. Using these features, Flint is able to generate more leads, as the website visitors who register on his website are automatically added to his IXACT Contact CRM where he can begin nurturing them by email.
Judges were impressed by Flint's customized homepage with a video, comprehensive neighborhood profiles, personalized blog posts, and testimonials page. As first place winner, Flint will receive 3 months free of his basic IXACT Contact subscription.
"I had previously used another popular vendor for my website and found the product to be pretty archaic in features and appearance," says Flint, "I was already a user of IXACT Contact's CRM, but after seeing the company's agent website product, it was a no-brainer to immediately switch over. Now, I have one of the best looking websites within my target market, and the fact it is managed within the entire IXACT Contact ecosystem is an added bonus."
Second place is awarded to Birdy Perry of Coldwell Banker. Birdy's website is beautiful and engaging with her color theme matching her branding perfectly.
To offer ongoing value to her clients and website visitors, Birdy added her IXACT Contact Business Directory, showcasing trusted service providers in the local area. Customized blog posts are another way she offers value to her website visitors. She uses a mix of pre-written IXACT Contact posts along with her own original content to educate her prospects and establish herself as a real estate professional. Birdy leverages IXACT Contact's advanced Facebook app to pull listings data into her Facebook page. Prospects can search and view properties without leaving the social network.
Third place is awarded to Real estate team Matt Blashaw and Russ Evans of Birkshire Hathaway. To offer website visitors more information about Orange County, the team created a new page of their Favorite OC Places. The page describes the best local dining, shopping and activities.
By integrating their Facebook feed into the website, Matt and Russ make it easy for prospects to connect with them online. They've also done a terrific job of customizing a Testimonials page to highlight some feedback they've received from happy past clients.
Since launching in September 2015, over 2,000 real estate agents have created beautiful, mobile-friendly websites using IXACT Contact. Real estate agents are pleased by how quick and easy it is to set up and customize their own real estate website. With IXACT Contact's websites, REALTORS® are able to grow their online reputation and capture leads which are automatically transferred into their real estate CRM.
Real estate professionals who don't currently subscribe to IXACT Contact can sign up now to take advantage of the 5 week trial including a real estate CRM, email marketing platform, and website.
About IXACT Contact Solutions Inc.
IXACT Contact® is an easy to use cloud-based real estate CRM that helps REALTORS® stay organized and build lasting relationships. The integrated solution offers three powerful elements including a real estate CRM, email marketing platform, and mobile-friendly REALTOR® website all for one low price. With IXACT Contact, real estate agents can convert more leads into clients and attract more referrals and repeat business. Sign up for a five-week trial today at http://www.ixactcontact.com. (Rookies get IXACT Contact for 6 months.)