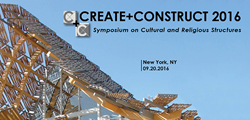 New York, New York (PRWEB) July 21, 2016
Simpson Gumpertz & Heger (SGH) will bring together a select group of architectural, engineering, and construction (AEC) experts for a full-day symposium on the design, investigation, and rehabilitation of cultural and religious structures.
The second-annual CREATE+CONSTRUCT is a one-day, American Institute of Architects (AIA)–accredited educational event held on Tuesday, 20 September 2016, at The Rubin Museum of Art in New York City.
Non-residential spending in New York City, including religious and cultural construction, took a substantial leap forward from $11.6 billion in 2015 to $15 billion in 2016, according to the New York Building Congress. In the wake of this building boom, SGH is inviting architects, developers, owners' representatives, and contractors to attend the symposium to discuss industry trends and better understand the challenges and opportunities associated with these types of projects.
Speakers will discuss new design and construction of houses of worship, museums, and entertainment spaces, as well as investigation and rehabilitation of existing buildings. Symposium highlights include:

A keynote presentation by Kevin Schorn of Renzo Piano Building Workshop on the new Whitney Museum of American Art
A session exploring the challenges involved with designing and restoring religious structures, including a discussion of the new Baha'í Temple of South America in Chile
A discussion of the design requirements for complex museum and exhibition spaces, including an examination of the New Museum of Contemporary Art
A review of different types of entertainment structures and the challenges associated with these projects, including a review of the award-winning China Pavilion at Expo Milano 2015
A panel session moderated by Richard Anderson, President of the New York Building Congress, on the future of museum design, the projected growth in cultural construction, and the current and future state of this critical market sector
Session and panel speakers will include executives from Acheson Doyle Partners Architects, Altieri Sebor Wieber, Büro Ehring, Cooper Robertson, Fisher Dachs Associates, Gensler, Quinn Evans Architects, Sciame, Simpson Gumpertz & Heger, and Studio Link-Arc.
Early registration discounts end 12 August 2016 and final registration closes 13 September 2016. The symposium will take place on Tuesday, 20 September, at The Rubin Museum of Art, 150 W 17th Street, New York, New York, beginning at 8:00 a.m. The day will conclude with a reception at 5:00 p.m.
For more event and ticketing information, please visit http://www.sgh.com/create-construct.
# # #
Simpson Gumpertz & Heger Inc. (SGH) is a national engineering firm that designs, investigates, and rehabilitates structures, building enclosures, and materials. Our award-winning work encompasses building, energy, civil/infrastructure, and science/defense projects in the United States, Canada, and more than thirty additional countries.
SGH has offices in Boston, Chicago, Houston, New York City, San Francisco, Southern California, and Washington, DC. For more information, please visit http://www.sgh.com.