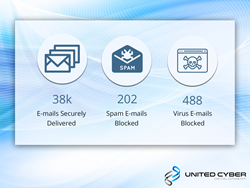 United Cyber Development has mitigated 6,036 attacks upon their customer's networks.
Houston, TX (PRWEB) August 05, 2016
Throughout this year small-businesses across the country have been finding themselves falling victim to an issue normally reserved for businesses of larger size, the threat being cyber-criminal activity.
Small Businesses are experiencing attacks in forms such as SQL injections, Malware, DDoS Attacks, JS injections, and more; all of which are easily preventable under the correct administration protocols.
United Cyber Development, a Premium Managed IT Solutions company from Houston, TX, is providing low-cost affordable high-security IT Solutions to small-businesses in the unfortunate wake of these ever growing cyber-threats.
Over the course of this year alone, United Cyber Development has mitigated 6,036 attacks upon their customer's networks. Including the prevention of employee-based data leaks, through the use of a multiple layer detection system.
"United Cyber Development is very different than most hosting solutions. Majority of the more well-known hosting company's only task themselves with one thing, 'Is your website online?'. However, in the modern-era of Business Hosting Solutions, being online is not the only thing you should be concerned about; security & performance should always priority #1," says Michael Vogt, the Chief Technology Officer of United Cyber Development. Michael continues to add, "UCD is a 1-on-1 IT solutions company, meaning we form a strategic partnership with each business we work worth, ensuring we confidently understand the needs and goals of our clients."
United Cyber Development takes every preventable measure to ensure your company's data is delivered securely, and as quickly as possible. In the effort to promote this, United Cyber Development has formed a strategic partnership with CloudFlare, a leading global community-based performance and security company. Cloudflare operates 86 data centers across the World, and United Cyber Development has direct access to all 86 of these data centers to promote the transmission speeds of their client's data, no matter where they are in the world.
These 86 global data centers are the same used by Fortune 500 companies, allowing your business's data to comply with the strictest of security policies.
United Cyber Development is offering a free professional in-depth security analysis of your business's IT setup, simply contact them here.
For more information on how to enroll in United Cyber Development's Elite IT Solutions Program, go here.