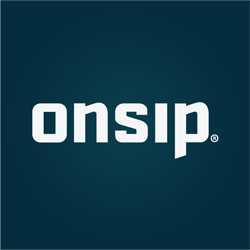 We rely heavily on open source technologies to deliver scalable, reliable, real-time business communications services, and we wouldn't be where we are today without FreeSWITCH and WebRTC.
NEW YORK, NY (PRWEB) July 20, 2016
Unified Communications as a Service (UCaaS) provider OnSIP announced today the company will join the Real-Time Web Solutions Conference as a Silver Sponsor, as well as ClueCon as an 8Bit Sponsor. The team will also participate in speaking engagements at both events.
The Real-Time Web Solutions Conference will be held August 1 - 4, 2016, at The Kimmel Center in New York, NY. This event will focus on enabling real-time web solution implementations through in-house development as well as Infrastructure as a Service (IaaS) and Platform as a Service (PaaS) providers. In addition to Silver Sponsorship, the OnSIP team will participate in the following panels:

How to Get Started Building Your First WebRTC Application - Held Wednesday, August 3rd at 10 am, OnSIP Lead Software Engineer James Criscuolo will offer tips for developers building with WebRTC for their first time. Criscuolo is a co-author of SIP.js, a leading open source WebRTC and SIP library for web developers.
Should You Deliver a Platform? - This panel will examine the challenges and value of delivering a platform with APIs and SDKs for developers. OnSIP Cofounder and CTO John Riordan will join the discussion with first-hand experience offering both UCaaS and CPaaS solutions. This panel is also scheduled for Wednesday, August 3rd at 10 am.
"We are thrilled to welcome OnSIP to the Real-Time Web Solutions Conference as both a sponsor and as speakers," said Event Producer & TMC President, Dave Rodriguez. "Attendees will benefit from their comprehensive outlook on the latest advancements and insight into the future of the industry."
One week later, ClueCon will be held August 8 - 11, 2016, at Swissôtel Chicago. ClueCon is an annual telephony and VoIP developers conference started in 2005 by the core developer team of FreeSWITCH, an open source communications software for the creation of voice and messaging products. At the conference, Principal Engineer Eric Tamme will give a presentation on utilizing statistical analysis to detect abnormal patterns in VoIP systems.
"So many great things have emerged from this conference over the many, many years we have been doing this!" remarked Anthony Minessale, Founder of FreeSWITCH and ClueCon. "FreeSWITCH was born at the first ClueCon and we have been going strong ever since with new ideas and new contributions to the open source communications industry."
"We are proud to once again participate in ClueCon and the Real-Time Web Solutions Conference this summer," said John Riordan. "We rely heavily on open source technologies to deliver scalable, reliable, real-time business communications services, and we wouldn't be where we are today without FreeSWITCH and WebRTC."
For more information about OnSIP and upcoming events, visit http://www.onsip.com/blog.
About OnSIP
Founded in 2004, OnSIP is a leading provider of Unified Communications as a Service (UCaaS) to over 45,000 businesses. OnSIP® business VoIP customers enjoy the benefits of a cloud based phone system without the traditional high cost, burden, and inflexibility. The company also offers a cloud platform and simple APIs for developers to rapidly and affordably build real-time communications applications of their own. For more information, visit http://www.onsip.com.
About TMC
Global buyers rely on TMC's content-driven marketplaces to make purchase decisions and navigate markets. This presents branding, thought leadership and lead generation opportunities for vendors/sellers.
TMC's Marketplaces:

Unique, turnkey Online Communities boost search results, establish market validation, elevate brands and thought leadership, while minimizing ad-blocking.
Custom Lead Programs uncover sales opportunities and build databases.
In-Person and Online Events boost brands, enhance thought leadership and generate leads.
Publications, Display Advertising and Newsletters bolster brand reputations.
Custom Content provides expertly ghost-crafted blogs, press releases, articles and marketing collateral to help with SEO, branding, and overall marketing efforts.
Comprehensive Event and Road Show Management Services help companies meet potential clients and generate leads face-to-face.
For more information about TMC and to learn how we can help you reach your marketing goals, please visit http://www.tmcnet.com.
About ClueCon
ClueCon was founded in 2005 by an aspiring team of Asterisk software developers who wanted to push the envelope and set out to bring all of the open source projects to one place to gather their wisdom and make Open Source Telephony a disruptive force in the industry. By the 2nd year in 2006, that team of developers, inspired by the first ClueCon, had created a brand new Open Source Telephony application known today as FreeSWITCH. Over the years, ClueCon and FreeSWITCH have continued to grow and benefit from one another. Every year the core members of the FreeSWITCH team still produce and oversee the conference blending a diverse collection of speakers and technology presentations that continue to inspire the way forward to combine knowledge and collaboration and create the bleeding edge of technology-driven communication. More information is available by calling 877-74 A CLUE (877-742-2583) or visiting the website at https://cluecon.com.